-on a mission to help people achieve their dreams with good time management
By Richard Bhainie
FOUR years ago, young Jahshawn Rutherford was partying with some friends when a fight broke out and he nearly died.
That incident shocked him to the core and forced him into a lifestyle change – one which allowed him to befriend "the right people who had their lives figured out".
The incident has become the driving force behind Rutherford's 24 Hours Left Institute – an entity which focuses on personal development and teaches the importance of time management, promulgating a remedy to fear of failure, inferiority complexes and self-doubt – to help individuals achieve their dreams.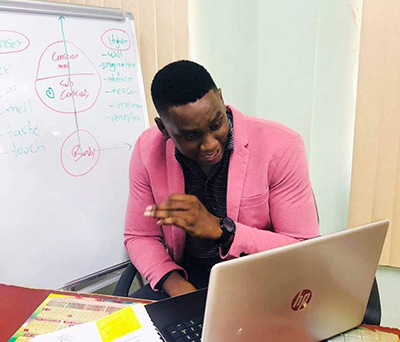 Rutherford, 23, told the Sunday Chronicle that he was not someone of high moral standing as he struggled financially and was often involved with the wrong people, at the wrong place and time.
He recalled that the incident four years ago drove him to do some critical thinking about his life and what he wanted to achieve.
Rutherford started to observe successful people, who made their name from scratch, including the founder of Amazon, Jeff Bezos.
"My own personal development came from reading about people's lifestyle and from that I created a concreate belief in myself that I can do anything."
He places a special focus on the value of time, noting that how to manage one's time has always been underestimated.
Hailing from Highdam, Mahaicony, East Coast Demerara, to a farmer and a school teacher, Rutherford explained that growing up he had limited opportunities and a mindset confined to his environment.
He graduated from the Mahaicony Secondary School in 2014 and with not much to do and being unsure of what he wanted to pursue, he enlisted in the Guyana Defence Force (GDF) the following year.
After completing his A-Levels in 2017, he enrolled for the Bachelor of Laws (LLB) with the University of London and was transferred to the Legal Services Department within the GDF. He is currently a Lance Corporal.
Reading played an instrumental role in his development; he employed a strategy where he tried to read one book per month, dealing with human potential, entrepreneurship and self-management.
"Books led me to a next level belief, beyond my environment; books allowed me to create an environment for myself. Books had a huge impact on me. From reading, my management skills heightened and I began to deal with issues better. I started to communicate in a new tone and even the way I dressed changed," he explained.
He started to network, exploring for likeminded people, who he can talk to about the principles he learnt and who were already applying them.
"It led me to meet people who are conducive to my growth. Created a hunger in myself and I just wanted to feed it. It was like a drug. I liked it and I wanted more," he told the Sunday Chronicle.
He added: "One of the most fundamental things I gathered from reading the works of these prominent people was to have a new perspective in relation to time and how time can change your life.
"I realized that all these prominent people I was reading, and looking at had something in common; they all had the same approach to time. They valued time in such a way that was above their income."
Rutherford stumbled across an article about Warren Buffet, who is American investor, business tycoon, philanthropist, who was quoted as saying: "I could buy anything, but I can't buy time" – a statement that fascinated him.
"This captured my interest to investigate what does this mean," Rutherford said.
Based on this, Rutherford authored a manual, in which he wrote the principles taught by the individuals he looked up to. He set clear goals, placed his imagination on paper and developed a vision of how to pursue his dreams.
He related that a colleague known as "Paris" observed him consistently applying the principles in his manual and asked him to share it.
"I thought this guy was joking. We weren't friends or anything at that time so I told him he might not be speaking to the right person. However, he was willing to learn these things," Rutherford explained.
From witnessing Paris' development and growth, Rutherford realised that if one person can make such drastic changes, then anyone who applied the principles would be able to do so.
Rutherford went on to refine his manual to accommodate people of every caliber, based on what is not taught in school and so he started the 24 Hours Left Institute to implement a "new style of education."
"We are acquainted with only one type of education, the academic component, which consists of math and English and these things, but what about self-development? What about goal setting? What about what to do when I fail?" he explained.
He held his first conference in December, 2019, with only six participants in a small room. However, he said the response was phenomenal and motivated him to take a leap of faith and to continue.
When the COVID-19 pandemic came in early 2020, Rutherford did not let that stop him.
"When the pandemic hit, I just had the idea of establishing the institute, in 2020; I knew that I would have to do the classes, but I just didn't know how. I didn't have any means or equipment to get it done virtually, but I had to do it," he explained.
'MIND OF STEEL'
He took his classes virtual using the platform Zoom, which gathered over 20 participants for each session from across the world. Rutherford shared a personal experience with managing time that led him to develop a 'mind of steel' where he was close to giving up but did not.
"During the prison Riots in 2017, I had exams the following week. Armed with a rifle in one hand and notebook in another, in the rain, performing my duty and attempting to study, was truly a test of my faith," he explained.
He recalled a woman in the vicinity who invited him into her home to iron his clothes and offered him food.
From this experience, Rutherford believed that "nothing is impossible. It is based on your burning desire and if you fit that desire within the 24 hours you have in a day, then you can get anything done, you don't get more than 24, so how do you use it?"
Kimmora Ward, Senior Auditor, Office of the Auditor General, in Montserrat, is one of Rutherford's former students. She shared her experience.
"Jahshawn has a comprehensive understanding of the principles needed to maneuver this complex world we live in today and he has a dynamic way in which he disseminates the information to the participants," she said.
Recognising his commitment to personal development, a consultant from the Proctor Gallagher Institute, reached out to Rutherford and offered him professional coaching in the area.
Classes from Rutherford's institute is being offered virtually and persons who are interested can make contact with him on telephone number 697 – 2165.