Among the residents of Dookalbo Island, Essequibo River is Anjani Kandhai, a livestock farmer. The 43-year-old reported that she is also a ground provisions farmer and when they have a harvest they would transport it to Parika, East Bank Essequibo, where it is sold. "This river life isn't easy and not for the faint at heart but when you are from here you get accustomed to the challenges and try to make things work in your favour," she said.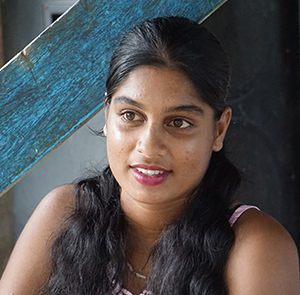 Kandhai like many others are not in favour of life in rural and urban areas in the country and prefer the riverine quiet life even though they lack basic facilities. She disclosed that they have become somewhat self-sufficient because they eat what they grow and use the meats are from the chickens, ducks, pigs and cows they rear. This riverine villager is, however, worried about the rising high tides which would cause severe flooding inland and make livestock perish.
This mother stated that if one isn't from the island will be difficult to reside there since they do not enjoy certain amenities but deal with just the basic. Meanwhile, a young lady of the island, Manesha Nellie told the Pepperpot Magazine that she is finished with school but due to their limited mobility she is at home assisting with household chores. The 18-year-old used to go to school at Fort Island and later spent a year at C.V Nunes Primary School, Essequibo Coast.
She added that the island life is very modest and she is comfortable to be among family members since she isn't very fond of the 'road' life. Another resident of the island, Nandani Singh disclosed that she is residing with her extended family. She is the mother of three small children while, her husband is a fisherman, who would use their boat to make a good catch in the freshwaters of the Essequibo River. The catch is sold at Hubu Koker, East Bank Essequibo and the money is used to buy household items and groceries.
The 27-year-old stated that if they catch fish overnight it would be stored in an outdoor freezer for which ice is bought. Then the next day, they would use their boat to go and sell the fish. "We are okay with what we have which is not much but at least we have each other as a large family and we have the cooperation to make things easy and we prefer this kind of life rather than living in a residential area with a lot of people," she said.
Singh pointed out that they would go out when necessary other than they have the time to do other things in which they can earn. She was also pleased to receive the government's cash grant relief for COVID-19 and the money was well spent. "We don't allow people here and we don't go out much so we are hoping the virus stay put," she said. The eight families of this island, however, extend their gratitude to the administration for gifting them with the $25,000 cash relief grant and is of the hope they will see some form of development on their island.