Dookalbo Island is one of the hundreds of islands in the Essequibo River and it is a twin-island, the smaller of which is uninhabited. The larger Dookalbo Island is home to members of an extended family of eight, who are farmers, fishermen and they also rear livestock to earn. There is no water supply, electricity, school, health facility or anything buildings except for a few houses on this island. The people of this island friendly and welcoming and seem to be happy with the little they have and do not wish to be relocated since they prefer the solitude lifestyle.
The Pepperpot Magazine met a group of residents, who had gathered at the home of Buddy Singh. He is the father of three and had been living on the island for the past 24 years. Singh is a farmer but the recent spring tide caused flooding on the island and he has lost some livestock. The island has no internal drains for floodwaters to recede as such, most parts of the island remain underwater. The cows would go to higher ground to stay while the chickens weren't so lucky and most perished.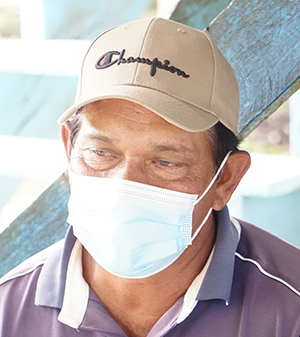 The 55-year-old told the Pepperpot Magazine that he is from Hog Island but relocated to Dookalbo Island at his father's place after he passed away. He is among the first settlers on the island and began to clear the land and started farming to bring in an income to his household. Singh reported that he would plant ground provisions, banana, plantains and watermelons and the produce is transported via boat to Hubu Koker to be sold to buyers. On his side of the island, there are five houses with families and on the other side of the island, there are three houses, making it eight families.
The nearest school and health centre is at Fort Island, about 20 minutes boat ride away. Singh, like others, would like to have a dam so it can connect the island and the residents can walk instead of having to go around the island which is costly. "At this point in the Essequibo River the water is mostly rough and unpredictable so it is difficult to travel but we take a chance when we have to go out," he said. Singh stated that the island has eight children, all school-age and they attend Fort Island Primary School, which has just two young teachers. However, the parents are asking that these young people be replaced with mature teachers which can engage the children in higher learning to expand their capabilities.
The farmer noted that if they can get a well for clean drinking water it would be good for them and they have small solar panels just to power a few bulbs. They do not have the luxury of flushable toilets and would like to have at least one on the island for the children to use. There is no drinking water except when they buy or use rainwater and in the dry season, it is difficult to source fresh water for drinking purposes. "I am trying with what we have and we make-do and if we get a small help we will be glad since we don't get any visitors," he said.
Singh was, however, pleased that he benefitted from the government's COVID-19 cash relief grant of $25,000 per household and the money was used wisely to buy foodstuff. This resident has a makeshift landing where his small wooden boat is moored and when it rains the place is in a bad state and muddy. Singh and his family seem happy to be at home and they are the friendliest of people, who welcome visitors with a hot meal and a cold beverage even on a rainy day.