PRESIDENT Irfaan Ali, on Tuesday, paid tribute to the 73 persons who perished in the Cubana Air Disaster, forty-four years ago.
The anniversary of the tragedy was observed with a wreath-laying ceremony at the University of Guyana's Turkeyen campus.
In an interview with this publication, President of the Guyana Cuba Solidarity Movement (GCSM), Halim Khan, recounted that forty-four years ago, a Douglas DC-8 aircraft trundled down the runway at Grantley Adams International Airport in Barbados and took off, climbing into a blue Caribbean sky.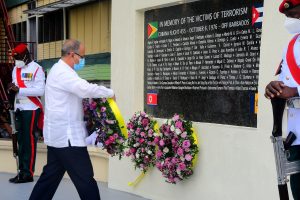 "As Flight 455 reached 18,000 feet, a bomb went off under an empty seat, the plane's ascent slowed and it began to bank dangerously. Eight minutes later a second bomb went off in the toilet at the back of the plane and the plane plunged into the ocean. Everyone on board perished," Khan said.
Further, he said that a 9-year-old girl was among the 73 victims.
The GCSM President said Luis Posada Carriles, who was identified as a CIA-backed anti-Castro movement terrorist, was never convicted or made to face any sanctions in connection with the tragedy.
"This was confirmed by the CIA in 2005. The agency had concrete advance intelligence as early as June 1976 of plans by Cuban exile terrorist groups in Miami to bomb the airline," Khan said.
Among the victims were 57 Cubans, five Koreans and 11 Guyanese, six of whom were students on their way to study medicine and engineering in Cuba.
The Guyanese who perished in that tragedy were Raymond Persaud, Rawle Thomas, Jacqueline Williams, Rita Thomas, Harold Norton, Gordon Sobha, Ann Nelson, Margaret Bradshaw, Violet Thomas, Sabrina Harrypaul and Seshnarine Kumar. Today, we mourn this loss.
The President and officials laid wreaths at the monument which was erected in honour of the victims. There were no speeches at the event
Also in attendance were Minister of Culture, Youth and Sport, Charles Ramson Jnr., National Security Advisor to the President, Gerry Gouveia, Minister of Foreign Affairs, Hugh Todd, and special invitees.