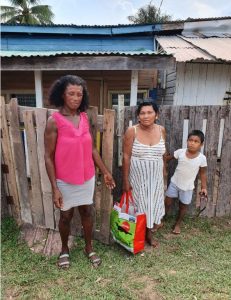 DURING the coronavirus (COVID-19) pandemic, many non-governmental organisations have stepped forward to assist families and households affected by the health crisis.
In doing their part, the directors of Parish Hill Mining Company Inc., last weekend, made a timely donation to a few Kwakwani residents who have suffered some form of financial loss during the pandemic.
Approximately 100 persons received a month's supply of food and sanitisation items.
Speaking briefly with the Guyana Chronicle, Arthur Thorne disclosed that he and a few other directors decided to lend a helping hand to a few vulnerable residents in the area.
He informed that they will be making monthly donations to as many families as they can, to relieve the stress and financial strain many are facing during this difficult time.
Thorne added that the team will soon be heading to Parika where it will identify a few vulnerable households and make a similar donation.