What is it?/Who are we?
GUYANA's National Protected Areas System (NPAS) has been in the making for over 80 years, beginning with the creation of Kaieteur National Park (KNP) in 1929. At that time, Guyana boasted the first national park in the Amazon region, and was one of only three countries in South America to have a protected area (PA). Since then, Guyana has taken a measured approach to protected areas development, with the country's second PA, the Iwokrama Rainforest Reserve, being formally established in 1996.
In 2011, the PA Act, which provides for the establishment, management, maintenance, promotion, and expansion of the PA system of Guyana, was passed. Shortly thereafter, two new PAs, the Kanuku Mountains Protected Area (KMPA) and Shell Beach Protected Area (SBPA) were declared following decades of preparatory work with local communities and other stakeholders. The newest, largest and first ever indigenous owned PA, Kanashen Amerindian Protected Area was added to the NPAS in 2017. Also included in the system are three urban parks in Georgetown: the Botanical Gardens, Zoological Park, and the National Park; and one, the Joe Viera Park, in West Demerara. The Pas, together with the urban parks, account for approx. 8.4% of the country's land area.
To manage NPAS, the PA Act established the Protected Areas Commission (PAC) which became operational in 2012.
WHY OUR WORK IS IMPORTANT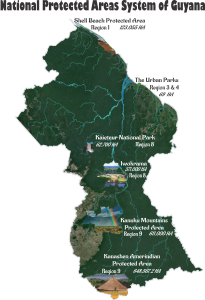 Conserving Biodiversity and Ecosystems
Guyana is centrally positioned within the Guiana Shield and so contains much of its representative ecosystems and biodiversity, while still featuring many endangered Amazonian species. At a minimum, the NPAS supports approximately 70% of Guyana's mammals, 60% birds and 43% of its plants. All 6 species of cats and all 8 species of primates that occur in Guyana can be found in the NPAS. The KMPA alone is thought to have the highest diversity of bats of any PA in the world, while SBPA is proposed as a globally important birding area (IBA), supporting more than 200 coastal and migratory bird species. It is thought that healthy populations of at least 30% of globally threatened mammals found in Guyana and approximately 90% of threatened reptiles occur in our NPAS. The PAC has been working with local communities and stakeholders to ensure continuous conservation and sustainable use of the protected areas and the biodiversity within.
PROMOTING SUSTAINABLE USE OF RESOURCES
Many of the areas adjacent to protected areas are titled Amerindian lands, comprising 7 out of 9 of Guyana's Indigenous groups (46 communities). There is a long history and culture of resource use by communities in the country's protected areas, including hunting, fishing, farming, and gathering. Many of these areas are therefore extremely important features in the livelihoods and long term developmental aspirations of local communities. The management of NPAS is therefore defined by a participatory approach with community involvement and enhanced local benefits being fundamental to our work. The PAC is committed to managing the sustainable use of resources in the protected areas, which, in accordance with the PA Act, means that no large scale commercial activities such as mining and logging are permitted. Subsistence activities that are deemed traditional by local communities like hunting, fishing, and farming are allowed.
TOURISM AND RECREATION
The development of the NPAS will directly contribute to the growth of the country's tourism sector, through the protection of iconic landmarks, landscapes and biodiversity, tourism marketing and the development of tourism-compatible infrastructure.
Strengthened partnerships with key stakeholders have therefore been a priority of the PAC to contribute to the growth and development of Guyana's ecotourism services and products. So, for example, the PAC, in 2019, signed a MoU with the Guyana Tourism Authority (GTA) to collaborate on the promotion of tourism that supports the conservation values of protected areas. At the centre of the tourism/protected area partnership is Kaieteur National Park, which is Guyana's premier tourist site and received over 8,000 visitors in 2018. Visitation within the Urban Parks are also significant and growing which makes them a valuable platform for marketing tourism, improving awareness, education and support for the conservation of Guyana's biodiversity.
CLIMATE CHANGE MITIGATION AND ADAPTATION
Climate change negatively affects biodiversity, livelihoods, and natural processes at a global level, more so in developing countries like Guyana. Guyana boasts one of the lowest deforestation rates in the world, thus making it a global carbon sink, and a key player in the international efforts to mitigate climate change. Our protected forest and biodiversity therefore play a significant role in climate change adaptation, acting as natural buffers and regulators of flood, droughts and rising sea levels.
CONTRIBUTING TO THE COUNTRY'S INTERNATIONAL OBLIGATIONS
Guyana is signatory to a number of international and regional conventions and protocols aimed at conserving biodiversity. Some key conventions the NPAS directly contributes to achieving are the United Nations Convention on Biological Diversity (UNCBD), United Nations Framework Convention on Climate Change (UNFCC), United Nations Convention to Combat Desertification (UNCCD) and the Convention on International Trade in Endangered Species of Wild Fauna and Flora (CITES).
During these first 8yrs of PAC's work, significant strides have been made in realising our massive mandate. Some key achievements have been the development of five year management plans for each state-owned protected area directly under management of PAC (KMPA, KNP and SBPA). Based on these management plans, our work has focused primarily on establishing key infrastructure and equipment; employing and training staff (many of whom are hired from the communities); supporting research in the PAs; conducting outreach and awareness to improve support for NPAS; and working with local communities and stakeholders to manage the PAs and support local livelihoods.
At this juncture, the PAC is looking forward to strengthening management of the NPAS, so that we can achieve our vision of protecting nature and improving lives.