Eminent pageant queen and beauty enthusiasts, Arian 'Dahlia' Richmond is expected to grace the virtual stage of the Miss Emerald International to represent Guyana in all its glory.
Richmond holds many professional hats as an activist, beauty queen, makeup artist and entrepreneur, and took The Buzz on her journey to educating and changing the lives of children through pageantry.
"Normally Guyanese children are scouted for their most dominant personality traits. Then, they are told by every aunty and uncle what profession they must choose. My mother groomed me to be a giver. As I grew, I found helping my peers was innate and that required representation. Pageantry blossomed during my plan to teach holistic education throughout Guyana," Richmond disclosed.
She noted after realising that she could harness and execute her plans of youth development through entertainment and pageantry, she immediately began works to assist children after being crowned Miss Bartica Regatta in 2018.
"I realized that our society heavily supported entertainment. A plan was birthed to channel the attention received from being crowned to fuel youth opportunities," she stated.
DO IT FOR THE LOVE NOT FOR THE LIKES
She added that she then used her most cherished skills: simply treating others the way she wanted to be treated [with kindness] to execute a programme which saw hundreds of children being educated in the fields of various skills.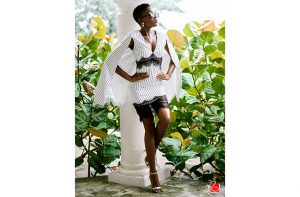 "After being crowned, I gathered my friends and family who were verse in Spanish, Art and Craft, health etc. to join me. Together we taught over 200 children prior to and after my first pageant experience. The theory was correct and by observation, the lessons post-pageant were equipped with more learning materials and food for youth," Richmond told The Buzz.
Nevertheless, Richmond noted that she had to keep climbing and gathering fuel since her goal is to channel resources to youths and provide holistic education all across Guyana.
"In 2019 I was selected by Caribbean pageant guru, Randy Madray, to represent Guyana at the Miss Caribbean Culture platform. I cherish the wisdom I was blessed with from the women across the Caribbean. I was astonished when I placed second since this was the first time any Guyanese reached the top five," she noted.
She told The Buzz that she is now in flight as Miss Emerald Guyana, representing the country at an esteemed International Pageant.
She added that the basis of the Miss Emerald International Pageant is to propel holistic learning further into the hinterland.
Richmond will be focusing on preserving the history and advancing the living conditions of Guyana's first peoples, so she is appealing for the support from her fellow Guyanese.
"I am elated to be on the journey of development exactly where it is needed, your support is needed to ensure progress. Kindly join me as I keep you updated on Instagram at @missemeraldGuyana."
Richmond noted that the pageant will be held virtually through the submission of professionally shot videos and photographs.
The winner of the pageant will be announced on June 10, 2020.