This year has been a challenging year for everyone and like most of the creative industry, the annual Timehri Film Festival has been challenged by the Coronavirus.
This challenge though, is not stopping the Festival team. They have chosen to stick with their mission and ensure that Guyanese filmmakers, at home and in the Diaspora, get the opportunity to view and share films and stories made in Guyana, other Caribbean countries and internationally. To do this, they have moved full speed ahead with the Festival, making the films easily available online.
For their audience's viewing pleasure, the committee stated in a press release that they will be screening documentary and narrative films in both feature and short film categories. The films can be accessed through the Festival's Facebook page: facebook.com/timehriff and YouTube. Though the Festival is free, the team stated that they believe in paying film makers for their work, so they are seeking voluntary donations from the public in any amount above US$5. Persons interested in donating are asked to visit timehrifilmfestival.com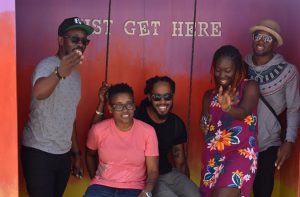 The Festival is hosted by the Caribbean Film Academy (CaFA) and Third Horizon. The committee has partnered with Ben Street Films to bring the second edition of the 592 48Hour Film Challenge. Last year the Festival had that were well received. These films can be accessed on the Bent Street Films Facebook page. This year the committee looks forward to submissions they will receive considering the current situation. Prizes will be issued to the top three films with a special prize – the audience award- going to the film with the most social media interaction.
The TFF team extended its gratitude to the persons who have supported the TFF over the past four years since its launch and encourages persons to join in celebrating its fifth year as they usher in the Festival online, June 4 – 7.
Visit timehrifilmfestival.com/schedule to see the Festival schedule.