THE first noticeable thing about Hanya Yanagihara's novel, "A Little Life," is how contradictory it seems even before one opens the cover. Despite, its title, the book does not convey any idea of 'littleness' at all. It is a hefty tome, weighing a good couple pounds for sure, and running over eight hundred pages in length. Its bigness can be daunting and can cause one to want to postpone reading it for a long time, as happened to me. However, it is only after having read the novel that it suddenly became clear to me that there is an artistic move even in the title's juxtaposition with the size of the book. The lesson seems to be that regardless of what someone thinks about their life, or regardless of how one's life is represented by others, we all, ultimately, live lives that can run for pages and pages, numbering well beyond the thousands. It is almost as if the book is saying, even if you have done little in your life, even if your life is small, there will still be enough, there will still be points of value and interest, a tale that is a long, interesting, bizarre, rarely-happy, and oftentimes grief-stained story, in much the same way that "A Little Life" is itself.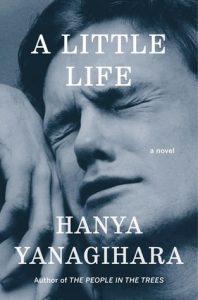 The central life of the novel belongs to a character named Jude, whose life from the moment he is found as a baby by monks, to the moment of his death, is presented in painstaking detail. Yanagihara's prose appears quite spare, to the point and matter-of-fact, and yet it runs on and on without losing its intrigue, its beauty, or its spellbinding effect on the reader. It is indeed rare to find a writer who seemingly never runs out of things to say, a writer who always finds another layer to add, another pulse of interest within an ever-climbing tale to cut out and unspool for the reader. Yanagihara is truly a marvel to me, and her work stands as an effigy for her toil and skill, particularly to those of us who, in the current age, are plagued by writers' block, social media, and the trials of surviving in the 21st Century. Yanagihara managed to overcome all of the same tribulations, and the fantastic work of art that is "A Little Life" is, in a way, a testament to the strength, intelligence, and perseverance of Yanagihara and all other writers who work in the current age.
However, I digress, and I now must return to Jude, our protagonist. Yanagihara's portrayal of his life as a heinous cycle of rape, abuse, and torture in his childhood and early teenage years is contrasted with the many successes and suspicious joy that comes Jude's way as an adult. This particular contrast is one that frames the novel since the narrative weaves back and forth between the past and the present. There have been readers who have commented on the sickening, depraved, and extremely disturbing acts of violence, including self-harm, portrayed in the novel. However, these instances are not gratuitous and only serve to contribute to the creation of the extremely complex character at the centre of the novel.
Yanagihara's Jude is an extremely bright man, an accomplished piano player and a very good singer. Yet, despite all of his gifts, he remains throughout his life an individual who regards himself with the utmost contempt – someone who believes, and perhaps wants, the worst possible things for himself, because of the sense of worthlessness that has been instilled in him during his formative years when he was abused by an assortment of callous and terrible men. The great irony of Jude's later life is that all of the other characters, mostly other equally complex, good, men with their own fascinating stories to tell, revolve around him and love and care for him deeply. They are all able to see his gifts – everything about himself that he is blind to, and this is what comes across as one of the saddest aspects of the novel, the fact that Jude, like so many other lost people in the world, is unable to recognize or even see his own beauty, his own greatness.
Yanagihara really taps into the effects of abuse – whether it is through the most damaging wound or through the slightest of words – and highlights the long-lasting effects of trauma. It is enough to make the reader contemplate every bad thing that he/she has said to someone over the course of his/her life while secretly hoping that none of those things manifests in the ways Jude's abuses and trauma manifests itself.
"A Little Life" is harrowing and depressing, offering intimate portrayals of the lives of several characters. Despite the sorrow that leaks from it, there are still moments of intimacy, beauty, and positive emotion in the book, and these moments make the sad parts of the novel endurable. Much like real life, Yanagihara's book contains all the important parts of the human existence, magnified and made into art. The formative childhood years, the awkward college years, friendship, struggling to make it in life, love and loss, jobs and vacations, broken hearts, more loss – in the way all of these elements come together, the book does manage to represent a typical life. The only significant change from the life of the average person and the life of the central character in the novel is that Jude's life is that of someone who has had a particular set of experiences that will forever affect even the most normal and mundane experiences of his life, and the unravelling of this kind of almost-perfect life that is ruined because of the horrors of trauma and abuse is as enlightening and informative as it is heartbreaking to read.