…urges rejection of PPP at March 2 polls
THE APNU+AFC coalition rolled into Tiger Bay on Monday night to remind residents of the daily blood shed during the Bharrat Jagdeo presidency and urged that Guyanese should not buy the "lies of the opposition" as the country heads into general elections.
The meeting saw remarks delivered by several party members, including Attorney-at-Law, James Bond; Mayor of Georgetown, Ubraj Narine; Former Guyana Defence Force (GDF) Chief-of-Staff, Rear Admiral (rtd) Gary Best and several others. Also in attendance was Chairperson for the Peoples National Congress Reform (PNCR), Volda Lawrence, however she did not speak during the evening's proceedings.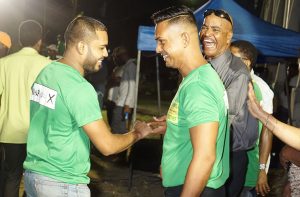 Jagdeo was President of Guyana from August 11, 1999 to December 3, 2011 during which there were three massacres: Lusignan where 11 individuals were killed- Bartica where another 12 were killed and Lindo Creek where seven miners were slaughtered. Besides, there were countless extra-judicial killings- with some activists estimating that around 400 Afro Guyanese males were gunned down. No inquiry was ever held for these killings.
Addressing the gathering, Bond spoke to the residents about the many developments that the APNU+AFC government has brought about across the country notwithstanding its short four year tenure. He touched on the yearly increases in public servants' salary – with last year seeing many citizens pocking no less than $100,000 over the Christmas season. "We have heard public servants saying this is the best Christmas they have ever had. We've done a lot and we got more to do. Guyana is on the up, Tiger Bay is on the up. This country belongs to the people of Tiger Bay, the people of Mabaruma, the people of Corentyne," Bond conveyed.
Many of the community's young children in the gathering danced around while waving party flags, as Bond told the residents that the future of their children could be in jeopardy if the opposition People's Progressive Party Civic (PPPC) gets back into government. "Don't let them sell you dreams. They are going to sell you so many dreams you are going to want to know where were these people all the time," Bond cautioned.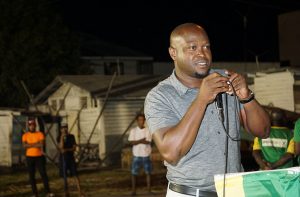 Delving into some details of how the community has specifically benefitted from developments over the past few years, Georgetown Mayor, Ubraj Narine, pointed to the establishment of washroom and bathroom facilities in the community, and the transformation of an empty lot in the community that once served as an illegal dumpsite.  The community now has a skip bin, which is regularly emptied. A constituency candidate, Narine pointed out that Tiger Bay fell within his constituency and he has held to his promise to see the community rise out of its once neglected state. The Mayor and City Council (MCC) have held several clean-up exercises in the environs of the community. "This government works in the interest of each and every one of you. My friends, the opposition neglected Tiger Bay for decades and it is this government who brought back the power of you the people so that we can serve you in the right way," Narine preached.
"I never forget Tiger Bay, every occasion I visit. I visit on behalf of his Excellency President David Granger, he sent me to you to make sure you are doing well. I can recall a concern raised about washroom facilities, today there are two restrooms and bathrooms." Narine also highlighted work that the municipality and government have done on the drainage system that has reduced flooding in Tiger Bay and many other communities across the City. "I want you to know your government has put systems in place tackling the drainage system," Narine noted.
Also warning the residents against the empty promises of the opposition, Narine highlighted that that party's candidate, Irfaan Ali, is still to provide any evidence whatsoever to substantiate his continuous claim that he could provide 50,000 jobs for Guyanese. "If I ask him to give me a break down, he can't answer me. We bring it in a vision because David Arthur Granger has a vision. Let us ensure that family members go out and place that 'x' next to the APNU+AFC, and the symbol is the Palm and key," Narine stated.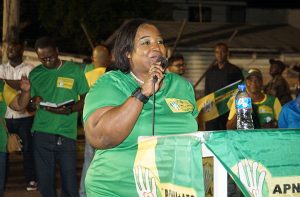 During her presentation, an impassioned Bishop's High School teacher, Elizabeth Williams, spoke of the days when Bajan Calypsonian John King's song "How Many More" that speaks to "senseless killing", was the community's anthem. "That was the song on my mind tonight, 'How Many More'. Do you remember in Tiger Bay when you used to have the mass funeral, when you used to missing your son, when your daughters used to turn to prostitutes. If you ever put back PPP they will allow your brothers, fathers and uncles blood to run in the streets again. I want you to remember, tell your brothers, uncle, cousins, don't forget the blood that used to run in these streets," Williams warned.
She claimed that there was a time when in Tiger Bay children were not even afforded the same opportunities for education as others. "They used to send your children to all kinds of schools. Your children's lives depend on you voting for David Granger and the APNU+AFC government. Your children will get an education second to none, not in the next five years; we are not waiting until the next five years. This man, David Arthur Granger, he is a President who goes down on his knees every single day for every child in this country. This man believes that an educated nation is a great and prosperous nation," Williams shared.
Former GDF Captain, 28-year-old Daniel Seeram pleaded with the audience to ensure the progress and development continues. "It we don't vote, the progress can't continue, the development can't continue," Seeram expressed.  Leonard also urged the crowd to ensure that their names are on the voters list and that they go out and vote come March 2, Guyana's next general and regional elections. "The most important thing we need to do is exercise our right, on March 2 we have to go and vote. We have to tell our friends, our brothers, tell everybody, every vote counts. If we don't go out and vote is another five years of the PPP. If you think you used to punish before, there would be more punishment if they return," Leonard also warned.