Already, international support is arriving in Guyana to assist the Guyana Elections Commission (GECOM) with preparation for the March 2, 2020 elections.
On Tuesday, GECOM Public Relations Officer, Yolanda Ward announced that Commonwealth Senior Technical Adviser, Dr. Afari Gyan had arrived in Guyana and met with the full Commission inclusive of GECOM Chair, Justice (rt'd) Claudette Singh and Chief Elections Officer (CEO) Keith Lowenfield.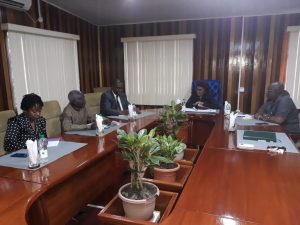 Gyan is to provide technical support to the commission, particularly the Secretariat. Ward informed media operatives that a team from the Secretariat is also in the country conducting advance preparations for an observer mission they have planned. Meanwhile, Former Chief Elections Commissioner of India, Dr. Syed Nasim Ahmad Zaidi is expected to arrive in the country by the end of the month.
Added to this, the International Republican Institute (IRI) has provided the Commission with technical support in the area of civic and voter education. The individuals who have already arrived to assist are former Director of Elections in Jamaica, Orette Fisher and a current representative of the Electoral Commission of Jamaica (ECJ).
The exercise is intended to ensure that the public understands its rights and restrictions when it comes to voting. Meanwhile, the Commissioner to travel to engage overseas contractors about balloting have been identified as Commissioners Sase Gunraj and Charles Corbin.