DESCRIBING herself as a person who breathes Art and Culture, 23-year-old Godlyn Lyte is hosting her debut fashion show in Guyana at the Pergola Restaurant at the Courtyard Mall on Robb Street on Sunday, December 8, 2019.
'Elemental', as the show is dubbed, will take the form of a pop-up shop and fashion show, where persons attending are encouraged to come dressed in their 'element'.
In an interview with 'The Buzz', the young creative said that this idea has been in the oven for quite some time, as she was working on her pieces and her confidence to release her work to the Guyanese public.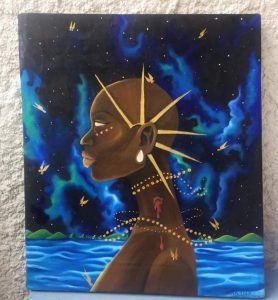 Lyte said that she was born in Guyana and attended school here up to First Form, before migrating to the US. Having been exposed to different cultures and lifestyles broadened her creative mind, which she said was already developed since she was a child.
Being the daughter of two artists, Lyte said her creativity comes naturally. Even though she said that she dabbles in all forms of art, such as painting, jewellery, clothing, etc, she is passionate about her African Culture.
As such, regardless of the art form, most of her pieces scream Afrocentrism, and can be labelled unconventional. This is also part of the reason why she believes her pieces will stand out in the industry.
"I just find ways to create things that represent me, because I don't like doing things that other people do. So I had to try and fail, until I created a style I haven't seen before, and try to develop it to be of good quality so it sits well," she told 'The Buzz'.
Lyte said that she believes that the local public is still not open-minded when it comes to art and fashion.
"We still have such closed minds; we're not open to seeing things from different perspectives. And we're not open to understanding why a person may produce this kind of work, or what they're channeling, or what they're trying to tell the public with whatever painting or design. We just have one idea of things, and just like to stick with that one idea until it has been certified by foreigners," she said. "Support your own first; believe in what they're doing first; give them the chance to show you that they have what it takes to actually take it to that level that we want to see it. Help them get to the point we all want to be."
Given the aforementioned, Lyte said that she doesn't want her fashion show to be like the typical. In fact, she wants persons to dig in their wardrobe, or look for a piece that they love and think that persons will look at them differently if they wear it to an event.
"The idea is to get persons to jump out in the eccentric part of them, fashion-wise, and come and enjoy the atmosphere and the setting, while still having the fashion show and access to the availability to some of my pieces," Lyte said.
The show starts at 14:00hrs, and ends at 19:00hrs. Tickets cost $3,000, and can be bought at the venue, or you can pay at the gate.