Gavin and Chucky working to reintroduce folk music, culture
Local folk/rock musician Gavin Mendonca along with leader of the Buxton Fusion Drumming Group Marlon 'Chucky' Adams, have teamed up to create the 'Creole Rock: Folk It Up Tour' which started last January.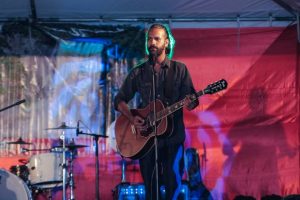 Gavin and Chucky have been playing music together since the 2015 edition of the Rupununi Music and Arts Festival, which was held at Rock View Lodge, in Annai. Since then, the two have developed a chemistry that they said is undeniably contagious, and rich with passion and culture.
"It is playing with Chucky over the last few years that has really enhanced my appreciation for Guyanese Culture and Music," Gavin told the Pepperpot Magazine recently.
The 'Folk It Up Tour' has one main mission – to reintroduce folk music and culture back into society, which Gavin believes has become overrun with foreign beliefs of what the Guyanese society should be.
While society evolves over time, especially with foreign influences, Gavin and Chucky believe that it is most important to maintain and preserve the true Guyanese identity. "What exactly is 'true Guyanese Identity' you might ask. This is a question that has been debated over the years…but Dave Martins, Eze Rockcliffe and Eddy Grant all believe that the key lies within our music," expressed Gavin.
"To me, Guyanese identity is as simple as it gets. It is about being true to yourself, and appreciating who you are, where you are from, and the way of life that has to be paved by our ancestors. A beautiful fact about Guyana's current generation is that our paths have been paved by a very diverse group of people over the past few hundred, even thousand years. We are truly a big pot of cook up," he added.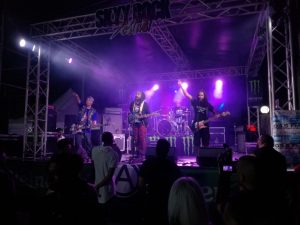 Gavin said 2019 started off on an "extreme high" for him and Chucky. In January, the University of Guyana (PACE) and Theatre Guild conducted a show which saw acclaimed UK Grammy award-winning sensation Joss Stone make a stop in Guyana as part of her ongoing world tour. They shared the stage with Joss, and were even selected to record a version of the popular folk song 'Gangamani', along with local Rapper 'A-TayJah'. A Video was shot in the Botanical Gardens and is currently in production.
During the 'Mash' celebrations, Gavin and Chucky performed at several locations, including a series of shows called 'Banks on de Avenue' hosted by Banks DIH and the annual Mashramani Folk Night at the National Cultural Center. Gavin and Chucky then made appearances at the KFC Link Show 34 in March where they added a new dimension to the infamous Link Show by merging folk music with comedy and improvisation. In March, Gavin and Chucky were also the first to perform at the recently opened 'MovieTowne Guyana'.
Also in March, Gavin and Chucky started a series of performances at The Courtyard Mall on Robb Street. "You can go and 'folk up yuh lunch' every Friday between noon and 2 PM, with live folk music in the midst of the hustle and bustle of Georgetown," said Gavin.
Last April, Gavin headed across to Trinidad for a series of performances. It started with the annual 3-Day 'New Fire Festival' in Maracas Valley, which is very similar to Guyana's 'Rupununi' festival.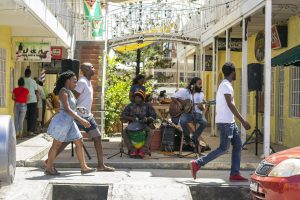 He was part of a Guyanese contingent that also featured Andrew Campbell's line of dried fruit chips called 'Ebesowana', Artist Nigel Butler and Christine DeCambra of 'Everything Makes Craft.' He then did a very intimate performance at a very Esoteric Store in the heart of Port-of-Spain called 'The Oblique Imperative'. This was a pop-up show hosted by 'Skyy Rock Festival' which Gavin has been performing at for the past three consecutive years. This year, he has put together a special project called 'Sugar-Caned'.
Sugar-Caned made Caribbean Rock history by being the first ever 'Inter-Caribbean' Rock band. The band is made up of Gavin (Guyana), Bryan Khan (Trinidad) and Jose Mossel and Shavero Ferrier (Suriname). These four young men have been friends for the last seven years with a common interest in Punk Rock. They have all performed together in their own bands in Suriname, Guyana and Trinidad. But this year, they decided to come together to form a Super-Group.
Gavin has also managed to rekindle his Guyanese rock band, which was live last night (Saturday) at MovieTowne, and will be performing at Hard Rock Cafe on Thursday, June 6 from 20:00 hrs.
Most recently, Gavin and Chucky were selected by Keith Waithe to be part of a program for BBC Radio 4 called 'Sound Odyssey' – a series that takes UK musicians to rediscover their roots around the world.
This episode features UK Rapper 'Loyle Carner', whose father is Guyana, as he comes to Guyana for the first time. While here, Gavin and Chucky, along with Keith Waithe, Herbie Marshall and two members of the Buxton Pride Steel Orchestra, wrote and recorded a song with Loyle to be featured in the documentary which will air on BBC Radio 4 in September.
Gavin and Chucky are grateful to all of their supporters and all of their sponsors for contributing to the success of the 'Creole Rock: Folk It Up Tour'.