By Naomi Marshall
– ahead of the 'big day' in December
THE mining town of Linden is to play host to an inaugural national debating competition among schools on the pros and cons of local government elections.
According to Minister within the Ministry of Communities with responsibility for Housing, Ms Valerie Adams-Patterson who made the announcement on Saturday during the hosting of the inaugural Junior Mayor Elections, that the debating competition will be a joint effort between her ministry and the Ministry of Education as a way of generating public interest in the upcoming National LGE billed for December.
Noting that there are lots of things people don't know about the subject, Minister Patterson said: "There is need for a lot of education on local government, and moreso we are heading to local government election this year in the month of December, and so a programme like this will force people to do research and to ensure that they acquire knowledge."
The competition is to be launched in Linden between September and October, the minister said, and pledged that she herself is going to buy all the trophies for that leg of it.
Regional Executive Officer of Region 10, Orin Gordon said that with knowledge of community history fading, he believes the school curriculum certainly needs to be improved in certain aspects.
"I believe the school curriculum certainly needs to do a lot better," Gordon said, adding: "When I was going to school, I could have told you about my village; who bought it; how many slaves bought the village… "And we used to call that General Knowledge, and it was part of Social Studies. What has happened since then to now is that we have transformed and I'm saying we no longer know much about our community in which we live."
According to Chairman of the Local Government Commission, Mr Mortimer Mingo, it is important for school curriculums to have local content.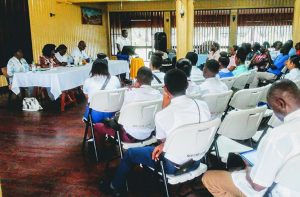 He said: "Local knowledge would have entailed knowing how the village council works; in this case to know how the town operates; what is the system of governance at the local level and so that it can better prepare our children to take on meaningful leadership roles within our town.
"We know, yes we want to have brilliant scientist, good doctors and lawyers, but I think that equally as important is for our children to know how we are; where we are and therefore that could only be provided by education."
Local government elections were last held here in March 2016 after some 22 years.
The Local Authorities (Elections) (Amendment) Act No. 26 of 2009 provides for local government elections to be held in all of the municipalities and Neighbourhood Democratic Councils (NDCs) in Guyana, using a mixed electoral system of Proportional Representation and First-Past-the-Post.
Fifty per cent, or half, of the councillors of each municipality and NDC are elected through the Proportional Representation component, and the other 50 per cent through the First-Past-the-Post or Constituency component of the electoral system.
As such, voluntary groups, political parties and individual candidates can contest for seats in the municipalities and NDCs.
Only voluntary groups and political parties can contest in the Proportional Representation aspect of LGEs. Both categories can contest any or all of the seats under the Constituency component of the elections. The candidates must be living in the constituency being contested.
Meanwhile, under the First-Past-The-Post component, an individual candidate can contest only for one seat in a single constituency in which he or she is registered and resides.
In addition to promoting the schools' debate on local government, Minister Patterson also pledged to have the Junior Mayor Project launched in all the towns in Guyana by the Ministry of Communities.