— as Cancer Institute encourages early testing to arrest cervical cancer
THE Cancer Institute of Guyana is offering free pap smear to women of reproductive age for the entire month of January as it observes Cervical Awareness Month with the aim of saving lives through early detection.
Cervical cancer occurs when abnormal cells on the cervix grow out of control. The cervix is the lower part of the uterus that opens into the vagina. According to the World Health Organisation (WHO), cervical cancer is the second most common cancer in women of reproductive age group. It is estimated that 36,000 women die every year in the Americas due to cervical cancer. However, once detected early, the disease can be successfully treated.
On Tuesday, the Cancer Institute Director of Outreach, Dr. Syed Ghazi and oncologist and medical director, Dr. Sayan Chakraborthy announced that women across Guyana will be allowed to have their pap smears done free of cost.
Pap smear is a very effective way of determining whether a woman has cancerous cells in the cervix or precancerous conditions of the cervix which can develop into cancer. A pap smear is a procedure in which cells are scraped from the cervix for examination under a microscope.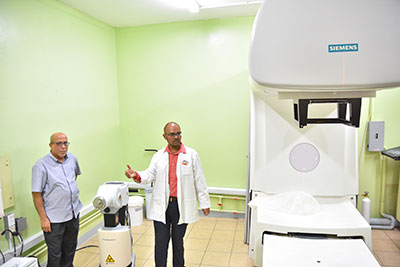 With funding from Australia and local and international organisations, the Cancer Institute is hoping to screen 1000 women free of cost for cervical cancer, as was done for the past three years. While women of reproductive age can walk into the institute and make appointments to have their pap smears done, the Cancer Institute, a non-government organisation, will be conducting outreaches with focus on Regions Six (East Berbice-Corentyne), Seven (Cuyuni-Mazaruni) and Eight (Potaro-Siparuni).
It was explained that pap smears are usually done seven days after the menstrual cycle (period). Women are urged not to insert tampon or their fingers into their vaginas before the screening is done. Additionally, they are required to abstain from sexual intercourse for a period of three days before the appointment.
In encouraging women to capitalise on the opportunity, Dr. Ghazi told reporters that the Cancer Institute is a partner in the Healthy Caribbean Coalition which has set a mandate to eliminate Cervical Cancer from Caribbean and Latin America by 2025.
MUCH TO BE DONE
He said in 2017, the local institute was among the top three performers in achieving this target but said much more needs to be done.
Dr. Chakraborthy said that while the number of cases seen by the institute with respect to women with Stage Three and Stage Four Cervical Cancer has reduced when compared to previous years, late detection continues to be a major problem.
"The problem with the cervical cancer lies with the misinformation or the ignorance regarding the diagnosis and treatment of the disease. Most of the people will come in advanced stages because either they didn't have the information that it can be taken out early, or they don't know where to go if they are having problems," the medical director explained.
While underscoring the importance of doing screening even in the absence of symptoms, he said sexually active women must be knowledgeable of the symptoms associated with cervical cancer.
"One discharge, long time discharge, foul smelling discharge, bloody discharge, discharge mixed with blood, having pain or bleeding after sexual intercourse. These are some symptoms which should ring alarms easily," Dr. Chakraborthy said. These symptoms, however, usually develop during the latter stages of the disease, and as such, early screening is critical.
Women experiencing these symptoms are being urged to visit the Cancer Institute or hospital. However, it was noted that some women are diagnosed with cancer during the latter stages of the diseases due to misdiagnosis on the part of some general physicians – an issue both doctors agreed ought to be addressed.
Pap smear, which is highly recommended for screening for cervical cancer, takes less than five minutes, the medical director noted, while reinforcing the need for women to get themselves checked. "I have found patients as early as 17 years of age and as late as 78 years of age of having cancerous cells," he noted.
He reiterated that early detection can result in patients being cured. Once cured, persons are allowed to live normal lives. In 2017, Dr. Chakraborthy saw between 75-80 patients with cervical cancer. Just last week, he saw five patients all of whom were diagnosed with having cancerous cells in cervix.
"Not long ago, just last week, my clinic saw five patients in a span of five days who came here for screening. They did not have any symptoms, they just came here for screening and on doing those screenings we found that five patients had pre-cancerous lesions which have every potential to grow into cancer," he told reporters.
At the Cancer Institute of Guyana, the treatment regimen for women with cervical cancer includes chemotherapy, external beam radiation therapy and internal beam radiation therapy.
ACQUISITION OF MACHINE
In addition to announcing that pap smears are being conducted at no charge for this month, the medical director disclosed that the Cancer Institute late last year acquired a world class Brachytherapy Machine to better facilitate internal beam radiation therapy.
The Brachytherapy Machine can be used to treat other cancers but currently the focus is on cervical cancer given the magnitude of the issue.
"It is a fully computerised treatment planning system in which the source of radiation is given directly into the tumor, so that we only eradiate and kill the tumor cells without harming the surrounding organs," Dr. Chakraborthy explained.
Between 2013 and 2015, Dr. Chakraborthy conducted research on the treatment regimen offered to patients and it was found that of every 100 patients, 35 to 40 of them had developed cancer even after being treated.
However, with the acquisition of this machine, the doctors at the Cancer Institute are hoping to eliminate the cancer at the first round of treatments. Today, 20 patients have undergone treatment using the Brachytherapy Machine and according to the medical director, the results are promising.
The cost to undergo this treatment regimen is approximately $300, 000 and while it may be difficult for some patients to acquire the required funds, Dr. Ghazi said with support from corporate community, more lives can be saved.
"We have the staff, we have the equipment and we have the resources. Sometimes it really pains if we can't help someone. So we want you (corporate community) to join hands with us and fight this war," Dr. Ghazi said.
On a regular basis, the institute collaborates with the Public Health Ministry, the Georgetown Public Hospital and other organisations and institutions to conduct outreaches and treat patients.