…admits did not comply with some SOPs
COMMISSIONER probing the alleged plot to kill President David Granger, retired Assistant Commissioner of Police, Paul Slowe, on Friday upbraided a senior detective of the Guyana Police Force (GPF) for what he deemed as poor work during their investigation into the matter.
Slowe in his critique lambasted Detective Sergeant, Komal Petamber, who accepted that he did not comply with several established rules and guidelines of the Force during the investigation.
Earlier this year, Andrif Gillard alleged that Nizam Khan asked him to kill President Granger sometime in 2015, an allegation Khan has denied. According to Giffard, who testified on Thursday before the Commission, he had approached Khan to loan him $6M but Khan instead offered him $7M, noting that he would not have to repay the money if he killed the President.
According to Giffard, Khan displayed a long black gun which he (Giffard) was expected to use to kill the President. He contended that since he refused to carry out the act, Khan has been harassing him.
However, during Friday's hearing, Detective Sergeant Petamber, said that a search was conducted on Khan's Diamond, East Bank Demerara (EBD) property but no such weapon was found. Instead a pistol and matching ammunition were found and the licence for same produced by Khan.
The firearm and ammunition were taken by police and lodged at CID Headquarters, Eve Leary. Petamber told the Commission that he became involved in the case on March 29 upon the behest of the Officer-in-Charge (OC) at the time, Assistant Superintendent, Mitchell Caesar, but noted that after that day he didn't have a role to play. The Detective explained that he received instructions from Caesar to take a statement from Gillard on March 29 at around 10am and he complied and reported same to Caesar. That process took some three hours, the police said.
"It took me more than three hours," he added noting that he "believed it was a serious story." Giffard had reported that he made several reports to the Grove Police Station to no avail and as a result of his frustration he traveled to the City to speak with investigators.
Later that day, at approximately 4pm, Giffard along with three police ranks, Detective Petamber, Corporals Deonarine and Jermaine Laundry, along with Giffard visited the home of Khan. Upon their arrival, Khan was seen talking with another man. However, as the police approached, the man, who remains unknown to investigators departed.
"Did you not see it fit to find out who the person was?," asked retired Assistant Police Commissioner, Paul Slowe, to which Petamber replied in the negative. "If you left CID with a view to investigate a serious crime…you saw this man speaking to a next person, you didn't see it necessary to intercept the other man?" Slowe questioned.
"No," replied the detective who joined the GPF in 2005 and started working at CID in 2009, after which he was stationed in the Major Crimes Department in May 2016. It was at that point that the retired Assistant Police Commissioner said, "I find that strange!"
Giffard was left standing alone outside of Khan's home, while the three policemen entered the accused's yard. "Myself, along with Deonarine, identified ourselves and told him of the allegations…he denied and we carried out a search on him…we took possession of the firearm and ammunition," Petamber recounted. Thereafter, the detective said a search which lasted about 45 minutes was conducted on the two storey property. In the presence of Corporal Deonarine a search of Khan's home was done and no firearm was found, the man reported.
Khan's wife, Alisha Singh was also interview after which Khan was arrested and escorted to CID Headquarters. At CID there was a confrontation between Giffard and Khan and Khan continued to deny the allegation leveled against him.
Search Warrant
Meanwhile, the Detective told the Commission that he, along with Deonarine went into Khan's house, while Corporal Laundry stayed behind near the vehicle with Giffard. Laundry during his testimony said he was stationed to the front of Khan's yard, while Giffard was alone near the police vehicle.
When asked what specifically Khan told him during his visit to the man's home, Petamber said "I can't remember…I can't remember exactly what he said." The detective said too that he took about 45 minutes to search the entire premises including the interior of the house and the yard.
"Did you get a search warrant?" asked Slowe, who subjected the Detective to extensive questioning. The detective replied, "No sir". His response prompting the Commissioner to question, "Did you not see it fit to obtain a search warrant?"
Petamber said, "I would have obtained one if he had denied us entry," a statement which clearly did not find favour with Slowe who responded "That's carry on policing… I don't understand that. You left CID headquarters with the intention of investigating this matter. You can't know whether this man will permit you to search or not and you did not seek to ensure you cover yourself legally to search…That is not the type of policing that one would expect or I would expect from a Sergeant in the Major Crimes Investigation Unit".
The detective later in the inquiry told retired Justice Ian Chang, who is representing the interests of the police that the process to obtain a search warrant was too time consuming, given the nature of the matter. Additionally, the Detective said he felt he and Corporal Deonarine didn't need assistance in the searching of Khan's premises. The other Corporal was stationed to the front of the accused's yard and could not see part of the sides of the yard, along with the back. It was later discovered that Khan, who was arrested by the officers was not taken to CID headquarters in the waiting police vehicle but in his own vehicle.
"In which vehicle did he (Khan) go?" asked Slowe. "His vehicle," replied Petamber. "Who drove the vehicle?" Slowe continued. "Deonarine drove the vehicle," said the detective who later said "I can't remember who drove the vehicle…but I know it was myself and Deonarine took him to CID."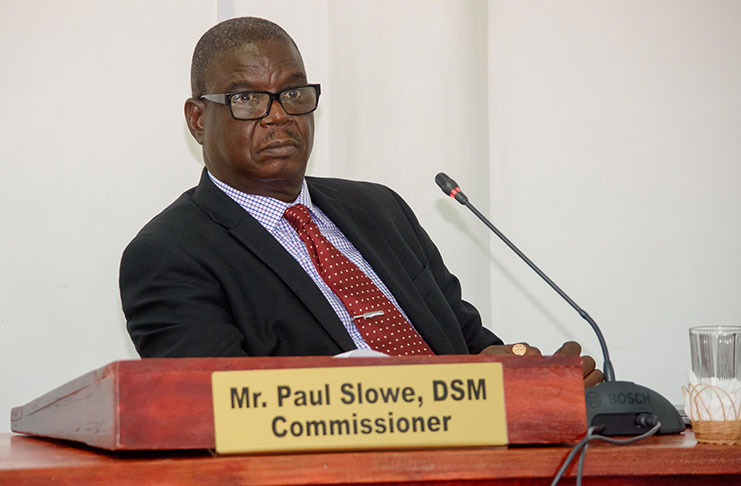 "What nonsense is that?" remarked Slowe, who questioned the statements made by the detective. "You are investigating a major crime, you arrested a man by the name of Nizam Khan and you ain't know if Nizam Khan drive this vehicle from Grove to CID headquarters?"
The retired Assistant Commissioner then asked Petamber whether it would have been normal for a person arrested for a serious offence to be allowed to drive himself, a question which was answered in the negative, accepting that the act was "abnormal." The Detective said he was unaware that only licensing and certifying officers can drive vehicles they have been licensed to drive.
Declined to make statement
Meanwhile, he said while at CID he lodged the firearm and recorded it in the general property book and noted that while he was on duty on March 29, Khan declined to make a statement. He however said the following day he was informed that a statement was made subsequently.
"I don't know who was the lead investigator; I wasn't," said the detective, who was the most senior person conducting the investigation that day. Petamber said too that he left work at around 9:30pm that night and handed over the case to Officer Sewsankar, who was a corporal at the time. He however failed to book out his time.
"That is a major breach. You got to book your time leaving the station unless they got a new standing order," said Slowe. "I reported to duty till afternoon the next day…I had to go to Leonora Court," the man told Slowe. He said it was Sewsankar who told him Khan was placed on bail on the night of March 29. "…but I don't know who placed him on bail," said the detective.
This prompted Commissioner Slowe to question whether Petamber inquired about the lodged firearm and ammunition. "Did you check?" asked Slowe. "No", replied Petamber, who said he found it strange that Khan was released on bail so quickly. "You found it strange that given the nature of the allegation he was sent on bail so quickly…but didn't do checks?" questioned Slowe.
The Detective said he was told that a report was done by the police but could not state who made the report. He noted too that a few persons had arrived at the CID Headquarters stating that they wanted to make statements in relation to the matter. The detective said he is unsure how those persons became a part of the investigation and didn't question same.
Additionally, the detective said many of the things he was required to answer were not placed in his statement. "Any reason why those things were not in your statement…if they were not contained in your statement then you were not giving people an accurate picture of what transpired; then it is neglect…if it is not neglect then it is incompetence," said Commissioner Slowe, who chided Petamber for his reasoning.
Meanwhile, retired Justice Chang questioned whether the investigation has been closed, to which Petamber responded, "I don't think so." Chang then asked whether at any stage of the investigation, advice was sought in the matter. Petamber responded in the affirmative noting that after the file returned there was no recommendation for charges to be laid. Attorney Christopher Ram, who is representing the accused Nizam Khan, asked Petamber to give his understanding of a plot and whether it is possible for one person to make a plot. "No sir," replied the detective, who Ram then asked "Who was Mr Khan plotting with?" He received no response.
Sergeant Petamber may be recalled to testify after written verbatim reports are submitted to the attorneys of the CoI.