-up to 300 jobs to be created
THE onshore logistics and warehousing base for ExxonMobil's first phase development of the Liza field is expected to be ready by March 2018, and will create up to 300 jobs for Guyanese.
This was the assurance of Lars Mangal, Chief Executive Officer (CEO) of TOTALTEC Oilfield Services – one of four consortium partners which won the contract to develop the onshore facility. That company, along with Muneshwers Limited, Pacific Rim Constructors, and LED Offshore, formed the Guyana Shore Base Inc. which owns and will operate the logistics and warehouse base.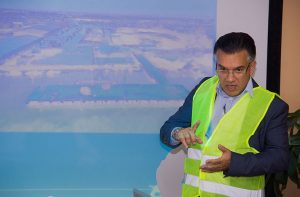 The CEO made this disclosure on Friday, during an organised-tour of the facility and its wharf sited at Houston, East Bank Demerara, for Minister of Natural Resources, Raphael Trotman, and the media. "We will be creating a number of other jobs with supporting companies and service companies that will be working with us, that will be amounting to 200-300. So that is quite a significant development. We have to have this facility operational by March of next year," Mangal told reporters.
ExxonMobil – the company currently drilling for oil in Guyana – had planned to use Trinidad and Tobago as its base. The base will service the needs of the rig which will be offshore Guyana drilling for oil. Fuel, water, cement, mud, and other materials will be available at the base.
However, the five companies pooled their resources and developed the area which Muneshwer's Ltd had intended to use as a container wharf after its purchase in 2013. The area being developed is 28 acres, with a waterfront of 900ft by 1600ft in depth. The company is aiming to build a wharf of 600ft, with 360ft having been completed.
According to Port Development and Operations Manager, Rabin Chandarpal, the company is on scheduled to complete the main part of the construction by the end of this year. The facility will employ about 100 persons with four-five being non-Guyanese. However, Director of Muneshwer's Limited, Robin Muneshwer, noted that those non-Guyanese will have three-year contracts which will stipulate that they train Guyanese during that time.
The Director also shared that a lot of the services being conducted at the facility are being done out of Trinidad and Tobago. As such, he noted that most of the services will now be offered from Guyana due to the development of the base. "…as quickly as we could get the facility ready, it means that we are creating jobs and industry in Guyana, bringing the business into Guyana, decommissioning Trinidad and commissioning Guyana, which is a big step" Muneshwer said.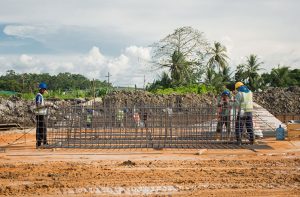 Having toured the facility last year, Minister Trotman said that he is "impressed" with the progress that has been made since then. "We toured last year while it was under construction and it still is. It is very impressive. It will meet international standards and it raises the standards across the board for ports and facilities of this nature in Guyana" Minister Trotman said.
He said that the Government was pleased that the construction is being done entirely by Guyanese businesses and that Guyanese will now be in position to find "good employment" by the hundreds.
"As we approach production in 2020, it's good that we won't have to wait until then to start to see the benefits. It's good to see local content, local involvement, local skills and local achievements" he said.
Two weeks ago, Guyana Shore Base Inc. advertised several positions in the local newspapers, and according to Muneshwer, the response has been overwhelming. He shared that the company has been averaging 100 applications a day, with more than 2000 having been received to date. The vacancies listed are for office positions and technical officers.