Ranks of the Guyana Police Force on Friday finally located and arrested Regan Rodrigues, also known as 'Grey Boy' in connection with the assassination of political activist, Courtney Crum-Ewing.
Police confirmed that Rodrigues was caught at approximately 16:15hrs on Friday in a house in Middle Road, La Penitence Georgetown
In September 2016 Rodrigues was freed of the murder charge by Magistrate Judy Latchman due to the lack of evidence. Guyana Chronicle understands that Rodrigues was instructed by the police to report to the Criminal Investigations Department (CID) Headquarters, Eve Leary, Georgetown, however he failed to do so.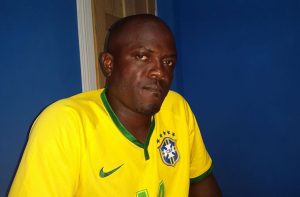 The office of the Director of Public Prosecutions (DPP) decided to re-open the case for further evidence from police witnesses and for the Magistrate to rule on the oral statements made by Rodrigues. Well known attorney Nigel Hughes has been appointed as a Special Prosecutor by the DPP to prosecute the case.
The bullet-riddled body of Crum-Ewing was found at Third Avenue, Diamond New Scheme EBD days before the May 11, 2015 elections. The 40-year-old was shot twice to the temple, once to the back of the head and twice to the stomach.
The police in a statement had stated that the political activist was accosted by four men in a car, one of whom discharged several rounds, hitting him about the body. It was reported that the killer (s) used a .32 pistol to execute Crum-Ewing.
The political activist was well known for his one-man protest outside the office of former Attorney General (AG) Anil Nandlall.  Minutes before he was gunned down, he was reportedly heard via bullhorn urging residents of the neighbourhood to vote against the then ruling PPP/C party.