PRESIDENT David Granger has called on Guyana's heads of missions overseas to vigorously pursue the nation's interests at various levels.
The Head of State made the charge on Monday morning at the Pegasus Hotel in Kingston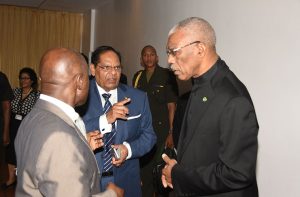 where the country's Foreign Service representatives have gathered for a five-day conference. The event is being held under the theme: "Advancing Guyana's Diplomacy in the 21st Century."
Prime Minister Moses Nagamootoo; Minister of Foreign Affairs, Carl Greenidge;Minister of Indigenous Peoples' Affairs, Sydney Allicock and several other ministers of government and retired diplomats attended the opening ceremony of the event. During his address to the gathering, President Granger noted that the state has an obligation to protect each citizen, noting that the rights of the citizens are important wherever they are.
He said that a central element of the country's foreign policy has to be a continuous commitment to integration, as he noted several regional and international organisations in which the country pursues its interests. According to the President, the Foreign Service is charged with the pursuit of national interest at the levels of citizens, country and the community. He said such interest must be pursued with vigor.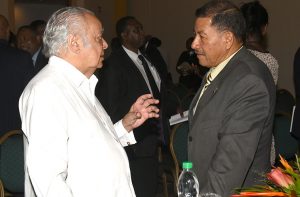 Speaking on the country's sovereignty, he said that while the country lacks the economic ability to sanction any state or the military capability to expand its power beyond its borders, it also has no plans to pursue such feats. He said that the erection of the CARICOM Secretariat, the observance of CARICOM Day and the erection of the Cubana Monument are relics which are expressive of the nation's national interest. "It is important to be Guyanese, it is important to be Caribbean," he said.
Minister Greenidge , speaking on the hosting of the event, said that as a new government, it has recognised that it is important to hold such an event at home, to have diplomatic representatives familiarise themselves with policies of the government,to take counsel over approach to diplomacy and measures to be taken to improve and define the nation's foreign policy. "At the end of the day, our foreign policy is but an extension of our national policy, ",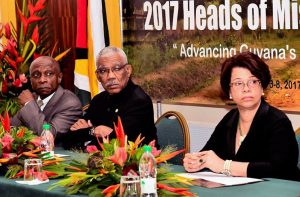 he said, noting that foreign representatives must understand their roles and responsibilities.
According to Greenidge, for a successful foreign policy to be effective, there is need for extensive and intensive knowledge. He also spoke of the country's border controversies with neighbouring Venezuela and Suriname, noting that Guyana's situation is unique in which its borders pose a threat to its existence as a state. Ambassador Audrey Waddell, Director General of the Ministry of Foreign Affairs, told the gathering that there is need for adaptation to the changing external environment. She said that last year the ministry made strides in advancing its foreign policy objectives as she pointed to establishment of a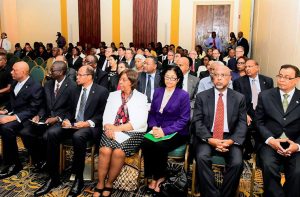 mission in Geneva , Switzerland,as well as upgrade of the consulate in neighbouring Trinidad and Tobago to a full- fledged diplomatic mission.