A HIGH-LEVEL team of Government officials was on Wednesday morning briefed by ExxonMobil on its production preparations, a move which marks the commencement of a series of consultations by the U.S. oil giant with stakeholders.The technical briefing was held at the Marriott Hotel, Kingston and a similar exercise was also expected to be carried out later in the day with a team led by Opposition Leader, Bharrat Jagdeo.
Prior to the start of the closed-door exercise on Wednesday, Minister of Natural Resources, Raphael Trotman, noted that the briefing was another on the development of the oil and gas sector, in particular Exxon's Liza well.
He said the briefing anticipated good news regarding production by 2020 and updates on new technologies and new techniques that will be deployed.
"It is important as Guyanese and particularly as policymakers that we know what are the resources, how it is going to be exploited and captured and developed, and very importantly at the policy-end, how are we going to use the resources to the benefit of all Guyanese," Trotman said.
He said the forum was the beginning of a series of engagements, starting with policy-makers and which will extend to the citizens of all 10 administrative regions.
He said the "proverbial Region 11," inclusive of Guyanese residing in cities such as New York and Toronto and those in other jurisdictions, will also be briefed.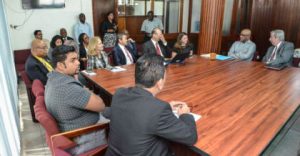 Following a series of oil discoveries stretching back to the Liza 1 find to May 2015, ExxonMobil is on course to create history with the anticipated production of oil and gas carded for the year 2020.
An article which appeared in the New York Times last month stated that Guyana is poised to become the next big oil producer in the Western Hemisphere, attracting the attention and investment dollars of some of the biggest oil companies in the world.
The report referred to an announcement by ExxonMobil and Hess Guyana Exploration of the successful drilling of a deep-water exploration well that may soon confirm that the seafloor beneath Guyana's coastal waters contain one of the richest oil and natural gas discoveries in decades.
Experts now estimate that one of its offshore fields alone, known as Liza, could contain 1.4 billion barrels of oil mixed with natural gas, comparable to some of the larger fields drilled in South America.
The report stated that early, rough estimates by experts of how much recoverable oil Guyana could have range to more than four billion barrels, which at today's prices would be worth more than US$200B.
In addition to the Liza field, Exxon and drilling partner, Esso Exploration and Production Guyana Limited are also exploring the Payara field, which is part of a block of 6.6 million acres.
On January 12, Exxon announced that its drilling partner encountered more than 95 feet (29 metres) of high-quality, oil-bearing sandstone reservoirs at Payara. It said that the area was safely drilled to 18,080 feet (5,512 meters) in 6,660 feet (2,030 metres) of water.
The Payara field discovery is about 10 miles (16 km) northwest of the 2015 Liza discovery. Exxon plans to move to two other locations in the months ahead, including the Liza 4 field.