With just two weeks before Christmas day, most households are in the midst of preparations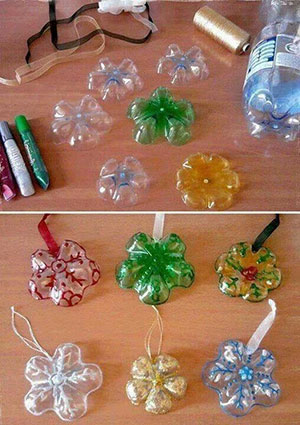 for the festive season. If you have been following the tips and ideas we shared in our articles over the past weeks, you should be well on your way in creating a cool, attractive and environmentally friendly décor for your homes and offices while enjoying the satisfaction that you are also reducing waste. If you are a bit short of money to buy decorations, it's time to get creative and bring out plastic bottles to your rescue!
1. Snowflakes
Don't waste those plastic bottles just yet – cut the bottoms off and make snowflakes out of them! Use your crafty snowflakes to decorate your homemade Christmas tree or just about anywhere else. Simply add a bit of paint and glitter and you're good to go!

2. Christmas Bells
Instead of throwing out the top of your plastic bottles after cutting the bottom off to make snowflakes, use them to create Christmas bells. Apply your desired colour of paint to the bottle tops. Tie a Styrofoam ball with nylon thread through the cork and tie a knot to secure it. Add any other decorative piece you wish to enhance your bell, e.g., ribbons, dried flowers, pine cones, decorative fruits, etc.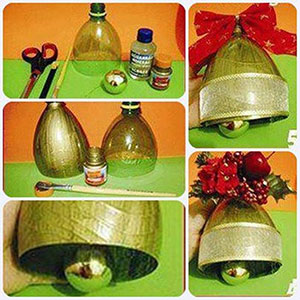 Christmas Tree
Simply stack the bottles on cardboard bases, narrowing them as the tree gets taller. This creates a Christmas tree that is out of the norm but still pretty awesome!
3. Bottle cap snowman ornaments
Bottle caps may seem like insignificant pieces of waste but can accumulate pretty quickly. Use your bottle caps to create little snowmen. Simply paint the bottle caps and glue three bottle caps to a piece of ribbon. Form a loop with the top of the ribbon and paint in the paint eyes, a nose, mouth and buttons on your snowmen. Like other decorations, accessorize your snowmen by adding ribbons, buttons, etc. These are some little cost effective and creative ways to go green this Christmas.
Making your own decorations is a good family fun and a very useful way of teaching your family to value and reuse waste. This experience can also be a base on which to instill respect for the environment.
For more ideas log on to the following sites:
23 Insanely Creative Ways to Recycle Plastic Bottles Into DIY Projects
61 Easy and In Budget DIY Christmas Decoration Ideas: Part III

You can share your ideas and questions by sending letters to: "Our Earth, Our Environment", C/O EIT Division, Environmental Protection Agency, Ganges Street, Sophia, GEORGETOWN, or email us at: eit.epaguyana@gmail.com