How to Control Glittered makeup?
Glitter is all the rage these days, it's being applied to lips, hair, eyelids, and even cheek bones. It's surpassed all expectations and has moved from just a body accessory for show girls.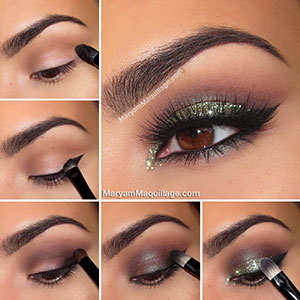 Glitter adds an extra spark to plain, boring, repetitive, monotonic makeup.
Now I know most Guyanese women are afraid to embrace the beauty within, and channel their inner diva to wear makeup. Especially the many of the mature set, the 35s and older. Allow me to discuss the taboo subject, please. It's understandable and relatively empathetic for me. Makeup has gotten a bad reputation for us. However, history will tell and studies have confirmed the theory that it's men who came up with that ludicrous idea.
Gloria Steinem, Barbara Walters, Hillary Clinton, Oprah and Beyoncé didn't advocate feminist movements for women to have more self-esteem issues. Most cosmetic companies are headed and staffed with predominantly women. It's imperative that women uplift one another by supporting each other, preferably with glitter.
The world has enough problems, and one way of coping with life's trials is using the power of makeup, or the power to avoid wearing makeup, whichever you choose, to help face the world. Glitter can be a messy situation and may create another problem.
To avoid glitter bombs and it's nuclear fallout, can end up on the cheeks, in the crease of the under eye, on the nose and everywhere. It's also very difficult to remove, especially if you try to dust it off. Only to find it creeping up again next week on some part of your skin's surface. The best ways to avoid or lessen the fallout, and all collusions of glitter's nuclear warheads: you'll need some ingredients and products to help counter combat the intensity of the bomb.
Candor Erudite Dauntless