THE local chapter of the New York-based Margaret Clemons Foundation yesterday began a domestic violence workshop for children aimed at reducing domestic and gender-based violence, and child abuse in society.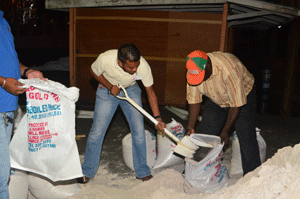 The initiative is a continuous community outreach project for youths, and the aim of the foundation is to use art to end this growing scourge in society.
Speaking with the Guyana Chronicle during an interview at the local offices situated at the Help & Shelter Building on Homestretch Avenue, Ms. Margaret Clemons, founder of the organisation, said it is her belief that the scourge would best be eradicated by taking a different approach to the situation.
"We believe that by using the arts and using children we could be able to make bolder statements that adults can hear and look at through the visual programme. It's a photography programme, it's something that will hit home," she stressed.
She informed that this project is a continuation of one that was started sometime ago with the painting of "eyes" on several popular spots in Guyana.
She said that they would take photographs of children, capturing their eyes; and faces of adults who would have agreed to support the project.
"We had the roll out in January of that poster project following that eye painting, and it was on some places like the seawalls and the National Library," she stated.
Photographs taken were developed into huge posters that were posted at strategic locations in and around Georgetown. Some of these photos are on the Help and Shelter building on Homestretch Avenue.
She said the foundation brought on board children from different walks of life to be advocates against domestic violence through several different projects.
She spoke of the relationship that developed among the children after several sessions together, and how much their minds have been transformed.
"It's pretty interesting to see how the children have evolved in the way that they are now looking at violence in the community," Clemons stated.
According to her, some of the stories have been very compelling and very moving.
"The stuff is really great, and the little kids especially, it's really beautiful, the work that they've been doing," she pointed out.
She expressed confidence that, by the end of the project, the children would be in a position to speak out in a different way against domestic violence, and thus impact the lives of adults and persons who are affected in this way.