Happy 100th birthday, Ted
NEVER in the annals of the literary history of Guyana was there such an extraordinary occasion, a moment to celebrate the birth centenary of a Guyanese writer while he is still alive. The name of that writer is E. R. Braithwaite, and he was born on June 27, 1912.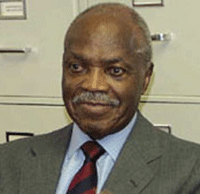 This re-reading of 'To Sir with Love', the book that shot Braithwaite to fame, is a tribute to the man and his work.
'To Sir with Love' is an inspiring story of an untrained black teacher overcoming numerous challenges in and out of the classroom to transform an unruly bunch of mainly White children into respectable people fit to face a harsh, critical society into which they will enter on leaving school within a few short months.
The book is a semi-autobiographical account of the author, E. R. Braithwaite, from the time he was demobilised from the Royal Air Force through the horrid period of job hunting (and house hunting), leading to his successful sojourn as a teacher (and a suitable candidate for marriage to a White woman).
Of course, there were many flashbacks to the author's life before this instance, which served to compare the pleasure of his schooldays and his upbringing under the Union Jack in British Guiana, as against what was unfolding in a post-war Britain.
Although the book is semi-autobiographical and a first book, it is also a neat piece of fiction writing, where the reader sees how challenges are overcome; where the reader sees the how and why characters change, and where conflicts are resolved in a satisfying climax.
The story goes like this: After the Second World War, a highly qualified Braithwaite goes looking for a suitable job but fails, each time blaming it on the colour of his skin — he was black and felt as if he was "caught like an insect in the tweezer (sic) grip of prejudice."
A chance meeting with an elderly man steered him into the education arena (denoting battle) in the form of the school, Greenslade Secondary School, situated in the 'rough' East End of London, with an unenviable reputation as a brood-pen of "delinquency, attested by the frequency with which children, boy (sic) and girls from that school appeared before the Juvenile Courts on one charge or another."
His initial encounters with the school — its location, its appearance, the uncouth behaviour of the students in a disorderly classroom, his first meeting with teachers, one of whom greeted him with, "Ah, another lamb to the slaughter – or, shall we say, black sheep"  – were all indications of trouble ahead.
There were also indications along the way to mitigate his unease and concern, mainly in the form of encounters with the female gender — Gillian Blanchard, Clinty Clintridge and Pamela Dare — women who seem to understand him for what he is attempting, who also stood up for him, fighting his battles (mainly of glaringly open racial abuses – visual and verbal), and one with whom he developed a love relationship.
But the males with whom he had contact also played significant roles in carrying the story forward, and to a satisfying climax, like the antagonist, Bert Durham, and Durham's classmates, 'Tich', 'Theo' and others.
Braithwaite approached the job differently, different from the textbook teaching method. (He entered the profession by "merest accident" and he had no "sense of vocation.")  He treated the students like adults, engaging them in a manner to help them to think for themselves – "each day I tried to present to them new facts in a way that would excite and stimulate their interest, and, gradually, they were developing a readiness to comment, and also a willingness to tolerate the expressed opinions of others; even when those opinions were diametrically opposed to theirs."
He taught them 'suburban formality', which brought about improvement in their conduct and deportment.  This improvement in their conduct and deportment was exhibited in many ways, and endorsed by members of the teaching staff and members of the public.
Although they wore no school uniform, "they possessed character and confidence, and an ability to speak up for themselves." Even the theatre management "felt the full impact of the change in the youngsters."
But the battle still raged on between teacher and students, even unto the end of the story. There was one incident which Braithwaite described as "a turning point in my relationship with the class," and that was the boxing match between Braithwaite and Bert Denham. But there were other significant incidents which brought things to a head and eventual climax.
'To Sir with Love' was reissued more than forty times, translated into numerous other languages, studied in learning institutions worldwide, and made into an evergreen, ever-popular movie of the same name.
E. R. Braithwaite is the author of several other books, including 'Paid Servant' (1962); 'A Kind of Homecoming' (1962); 'A Choice of Straws' (1965); 'Reluctant Neighbours' (1972); 'Honorary White' (1975); and 'Billinsly, the bear with the crinkled ear' (2008).
WHAT'S HAPPENING:
•    We are inviting tributes, especially from Guyanese who knew Braithwaite.
(To respond to this author, either call him on (592) 226-0065 or send him an email: oraltradition2002@yahoo.com)