THE Swedish film, 'MAMMOTH' (2009), directed by Lucas Moodysson, was an interesting film for a number of reasons, none of which had to do with any formal or structural distinction, but mostly the level of its objectively nihilistic mood and content.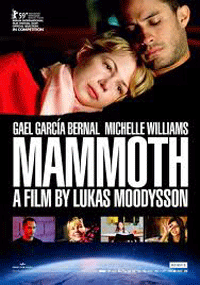 Three crisscrossing stories involve a Swedish couple and their little daughter as naturalized Americans living and working in New York; their live-in Filipino maid and chaperone, who has left two small sons with her mother while she works in New York city to finance a house back home; and a beautiful Thai playgirl who seduces the young Swedish husband who leaves New York, briefly travelling to Bangkok to finalise a business deal.
Film as social interaction
The film's inclusion in this mini European film festival for Guyana clearly had to do with its overall theme of contemporary relations between Western developed and non-western developing nations; between European (or white) and non-European cultures; between the higher educated and the unskilled working class; between inhibited and uninhibited human values.
The film's programme describes the young couple as Americans, but they are not; and this is one of the interesting aspects of the film, which clearly does not grasp any real tangible attitude in its husband-and-wife team. The general mood of 'Mammoth' seems far from any style of American positivism, due to its mostly introverted anxieties, where every human interaction ends up in a sort of predestined revelation of self-deception and futile material success. Behind it all is a frustrated film direction obsessed by the muddle of worldwide technological sameness in societies shrunk to the same materialistic obsessions and entertainment past-times, even though they may retain their ethnic differences, which only add to the muddle.
Thailand & New York
The young husband designs computer games –which we never see – and is suddenly called by his wealthy business associates to travel with them to Bangkok to seal a deal. Why Bangkok? Because, in the new electronic/digital computer era, such areas provide cheap off-shore expertise and factory labour. The young husband, who seems unimpressed with the affluent interests of his associates, is, nevertheless, only interested in making money to enjoy the secure life he enjoys with his wife and daughter back in New York.
He, at first, has little or no interest in Thailand or Bangkok, and is eager to sign his deal and get back to his family. But a delay in the signing of the deal forces him to stay longer than intended, so, bored, he is enticed to sample the famous decadent Bangkok nightlife where he meets a beautiful and vivacious young Thai hooker, and also discovers the country's original rural coastal beaches and lifestyle.
Stress & lifestyle
Meanwhile, the stress of being a doctor in the traumatic emergency section of a busy New York hospital during winter affects his wife, whose off-duty home life is filled with insomnia, loneliness, in a sterile looking high-rise apartment. Her little daughter spends most of her time with the Filipino live-in servant because of her mother's busy work schedule, and begins to develop a preferential attachment to the maid, who is a devout Catholic and believer in conventional ethnic ideas, different from her mother's educated ones.
On the other hand, the maid's young sons in Manila phone their mother constantly on a cell-phone begging for her speedy return, and are chastised by their grandmother who one day takes them to a rubbish dump to witness boys like themselves rummaging for meals there, which she uses to justify their mother's absence in order to provide money to purchase materials for the concrete house they are building piecemeal.
The director of 'Mammoth', like the director of 'LILA,LILA', shows the influence of routine technical skills as are used to make American TV programmes, or such programmes in general, rather than the influence of American film directors of cinematic excellence. For example, one scene of an Asian boy in New York stabbed in his abdomen (by his mother apparently, which hints at strange behaviour) is shown in all its gory realism on the operation table as in those recent super-realistic American TV programmes. This serves to justify the stress and insomnia we are shown of the doctor's personal life while her husband is away.
Non-Western seduction
Meanwhile, curious and fascinated by Bangkok's nightlife and rural beauty, the young husband's friendship with the young Thai hooker is purely platonic, with an obvious Western moral superiority and loyalty to his wife; so, he refuses to have sex with the Thai girl, yet pays her huge sums of money not to have sex at all with anyone for money. This reveals, perhaps, a most subtle point in the film's direction, which implies that the young Westerner is really insulting the very totality of the girl's self-worth in a non-Western context, where sex itself and the body's pleasures are not viewed as different from other necessities of life, like money.
This is a valuable point in the film. Scenes show where the girl and her friends are quite experienced about the attitudes and character defects of the foreigners they sleep with, and laugh at their defects in private. She decides to pursue 'The American' to his beach hideaway, and he's glad to see her; so they explore the area on her scooter, but sleep apart in his beach house. That is, until the seductive unity of her beauty against Thailand's original culture leads to his seduction, and he ends up naively planning to live and travel with her, as though suddenly a single man again.
The film ends with him back in New York with his wife and child in a false familial unity, eroded by the wider reality of the 'Family of Man' revealed by the world's new global interconnectedness.
Filmmaking minus art
It seems the film's great flaw (as with 'Lila Lila') is the lack of art shown as an influence in its social and private environments. It is unrealistic to present the truth of New York without showing the presence of art in both public and private spaces. There is no art in the doctor's  apartment; she is locked into self-conscious images from her heroic medical occupation. There are hardly any really memorable scenes in the film; everything is chosen to enhance its narrative alone. This is what happens when films become straightforward vehicles for story-telling, rather than works of visual art themselves.