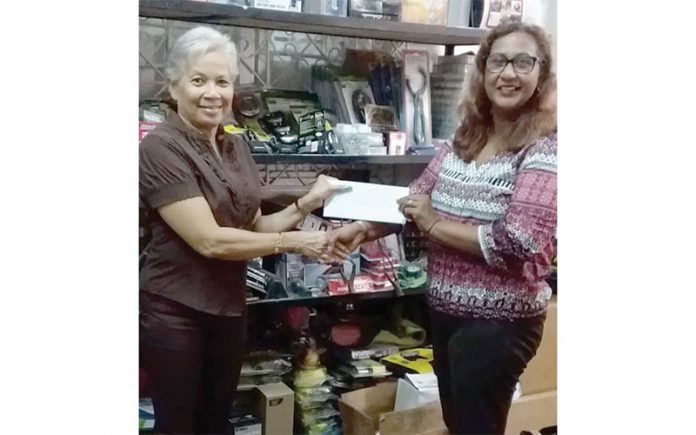 LOCAL company Special Auto yesterday confirmed its commitment to the upcoming Drag Race event of the Guyana Motor Racing and Sports Club (GMR&SC).
The company's representative Kamini Seejatan handed over its sponsorship to the GMR&SC's Cheryl Gonsalves at its South Road office.
Known as The Filter King, Special Auto is the supplier of all local models of filters and other car spares.
Speaking on the occasion of the sponsorship receipt, GMRS&SC vice-president Hansraj welcomed the input of Special Auto for the second round of the National Championships.
"We are always grateful to have guys like the Special Auto team onboard with us. They have been involved with circuit racing for a number of years now and also endurance racing."
"Their owner Shan Seejatan is a former endurance champion and a serious contender in the group-two action for circuit racing, so we hope to see him come out and try his hand at drag racing as well."
Speaking the issue of readiness, Singh confirmed that all systems have already shifting into gear.
"We anticipate a good meet. At the committee level, we have already commenced the required work to ensure a smooth event come June 23."
"For this event, we want to ensure also that competitors are registered early because we want them to have their entries in the system. A lot of time was lost at the last event on sorting through entries. We don't want that this time around."
Other sponsors for the event include Platinum Car Show, KFC, Supreme Bets, R. Kissoon Contracting Services, Deryck Jaisingh Trucking Service and Machinery Rentals, Del Ice Co., Mohamed's Enterprise, B.M. SOAT Auto Sales, Prem's Electrical, E-Networks, Motor Trend, Nexus Machine Shop, Power Line, Jumbo Jet Auto Sales, Wind Jammer Hotel, Cyril's Taxi, A&R Jiwanram Printery, Blue Spring Water, Choke Gas Station, Miracle Optical, First Class Auto Spares and Sales, GT Tuners, West Coast Customs Washbay and Imran Autoworks.
Tickets for adults cost $1 000 and children $500. Action starts at 09:00hrs on race day.