THE village of Sheet Anchor, East Canje, Berbice, which is tucked away under the Canje Bridge is somewhat forgotten and neglected.
It is home to about 600 residents, most of whom are unemployed and according to Andy Crawford, a resident, the youths have absolutely nothing to do and pilfering is necessary for survival.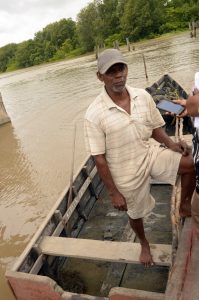 "We are not bad people here, but we have to eat and you find they will take things that belong to other people and sell just to get food on the table, because other than fishing there are no jobs to provide a steady income. We are forced to do things that we do not want to [do], but we have to because our needs are much greater," Crawford said.
When the Pepperpot Magazine visited the area, a few villagers were under the Canje Bridge, drawn to a lively game of dominoes, while a vendor stood nearby and some young men had converged outside a small shop.
Residents stated that they feel stifled down there, because there is nothing going. It was observed that the roads in the small village were in a deplorable state and basic infrastructure was lacking.
"You know this place isn't all that bad like people say it is. We are regular folks and we are home to some of the best cricketers, a game which is a feature in the community; endless matches are played right on the streets" Crawford said.
The 22-year-old added that he is willing to work, but jobs are hard to find, since New Amsterdam is like a town that is in 'slow motion' and nothing much is happening in terms of employment.
"Since morning I sitting here playing dominoes with nothing to do and I wish I had a job, because I need to earn to make a living like other folks; but for now, we must make do," he said.
Fishing is my living
Compton Persaud, a fisherman, has been fishing in the Berbice River for more than 40 years and had encountered engine trouble with his boat; he was hoping to get it fixed so he can resume fishing.
He told the Pepperpot Magazine that he usually goes fishing at the mouth of the Berbice River and would have a catch of seabob and banga mary which he sells it at the Port Mourant Market, Corentyne.
This Sheet Anchor resident said fishing has maintained his family and 'put food on the table' and it is the only job at which he is proficient.
"Some days I get a good catch and others it is not so good. The fact is, things are deteriorating like less fish, while at the market, the price keep dropping, owing to the poor circulation of money in the county. Things are very slow and if people ain't get money they can't spend, which means we are operating at a loss," Persaud said.
This father of three added that during the rainy season fish is plentiful, but on dry days, the catch is quite limited; but, he added, he is a patient man.
Persaud said that with the sugar estates being closed, like other communities, they are experiencing the ripple effects; things are not always as they seem, he said, because it is difficult to make ends meet on a daily basis.
In Sheet Anchor, the main source of income is fishing. It is the place where there is a makeshift area for fishing boats to load and offload before and after their fishing expeditions.
Life under the Bridge
Kiloutie Katwaru, has been a resident under the Canje Bridge for the past 14 years when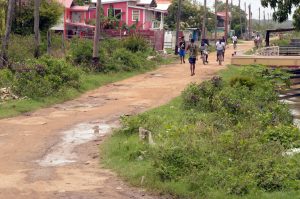 she got married, but when her husband passed away she migrated to Trinidad and Tobago; there she worked for 17 years.
She, however, returned to Guyana in 2014 and is still looking for work, since she needs to sustain herself financially.
"Them ain't doing nothing here. The place is overrun with mosquitoes and as you can see, the roads are in need of repairs and we feel neglected under here, because nobody comes here at all," Katwaru said.
The 61-year-old told the Pepperpot Magazine that they are a forgotten people and it is time they get some attention.
She related that when her husband died eight years ago, she did not know what to do, as such, she migrated.
"Right now I doing nothing. My daughter and granddaughter live with me and this place is in a terrible state with discoloured water and we have to purchase drinking water; so life here is hard as you can see," she said.
Sheet Anchor is next to Fort Canje and is located in East Berbice-Corentyne; it is the last village in East Canje before New Amsterdam.