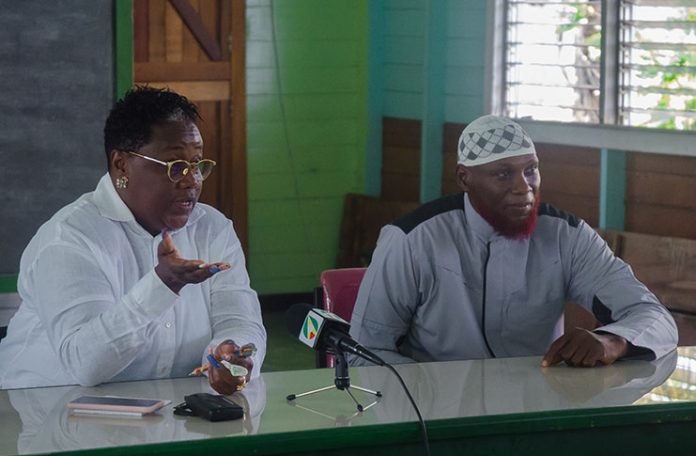 – Minister Broomes pledges help to Muslim brothers and sisters of Alexander Village
MINISTER within the Ministry of the Presidency with responsibility for Youth Affairs, Simona Broomes, pledged her assistance to the Muslim brothers and sisters at the Alexander Village Masjid.
The minister engaged persons at the Masjid on Friday, and spent a few hours listening to concerns that they had. According to her, areas like Alexander Village are often stigmatised and as such, she wanted to direct her energies to connecting with the grassroots.
At the outreach activity, a common issue raised by members of the community was employment.
"We know that [unemployment] is a problem, and that is being addressed," Minister Broomes said, and explained that it is for this reason the government has been seeking to engage members of various communities. Exacerbating this, she noted, is that many do not have the relevant qualifications for the job market.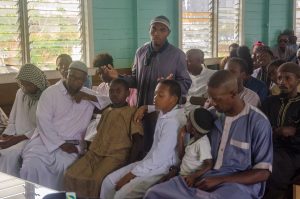 However she highlighted too, that the government has been striving to facilitate more training opportunities for persons and at the session, promised to help interested persons into the training programmes. She also indicated that she has been speaking to members of the private sector about providing more jobs for persons.
"In Guyana, between the age 14 to 25, a lot of our young people have no training, no CXCs and no jobs," she said. "We've got to get all hands on deck."
One member of the community shared that persons may want to attend the training programmes and equip themselves but are confronted by the challenge of having to provide for their families. A suggestion was floated that the government could provide stipends for persons desirous of being trained.
The minister took note of the views expressed and shared that in fact, this was something that was raised at a previous outreach, and was one that she would have to look into further.
In the meantime, she worked to create the avenues for persons to access the training available and help them with employment. She urged the citizens to desist from engaging in any delinquent activity to 'make ends meet'.
"Don't have that frustration putting you out there… that's going to get you in trouble," Broomes said. "I understand it is a real thing, but I also understand it is a real thing in prison and understand it is a real thing when children grow up without a father."
One woman shared with the gathering that she felt that she was forced to resort to delinquent activity just to make ends meet in her household. And for that, she spent three years in prison and has been so stigmatised that she has been unable to regain a job in the teaching profession.
Minister Broomes was so moved by the woman's story that she immediately contacted Minister of Education, Dr. Nicolette Henry, in an attempt to help the woman get back a job as a teacher.
According to the minister, the woman did the crime and had already served her time for that mistake. And as such, she ought to be given a second chance to contribute to society meaningfully.