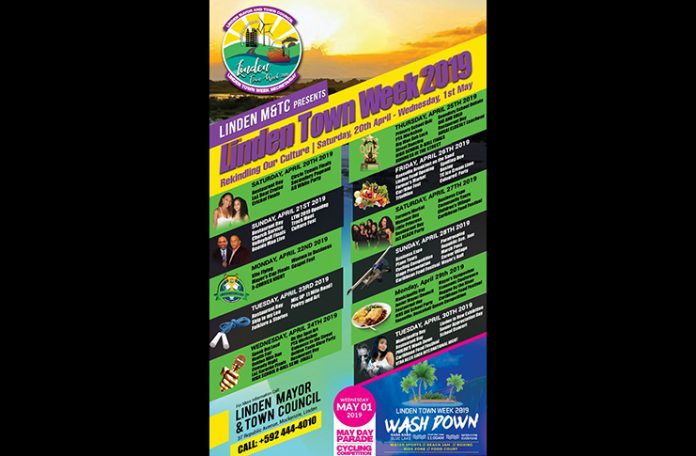 – LTW Grand Opening set for Sunday
THE long wait for one of the most anticipated time of the year for Lindeners is finally over with the arrival of Linden Town Week (LTW) 2019, and already the mining town has been transformed into a virtual cultural, colour-party arena.
This season, the 10-day-long event, which is being hosted as per usual by the Linden Mayor and Town Council (LMTC), will be celebrated under the theme, "Rekindling our Culture".
The grand opening ceremony is slated for Sunday, and will take the form of a road parade and cultural extravaganza. Ushering Heralding in this event, however, will be a church service in the morning hours.
This weekend, there are several events that Lindeners and visitors can enjoy. Tomorrow, there will be the long-awaited L&L 'Son Chapman' boat cruise, cricket and circle tennis finals, the Linden Town Week teen pageant and the signature event, the All White Party at Shanghai's residence in Amelia's Ward.
On Sunday, the Mackenzie Sports Club Ground will come alive with the King of Dancehall, 'Beenie Man', live in concert, along with other local artiste such as Li'l Colwin. There will also be VolleyBall finals for the sporting fanatics and a culture fest.
These events form part of the 11 days of activities on the official calendar. Over 60 events will be held from April 20 to May 1.
Other events throughout the week include a Women in Business seminar, gospel, Golden Taste Glow party, on the Spot Art, Big Man Gah Luck Party, Rasville Breakfast on the Sand, Coloured themed party, Linden All Black Party, Caribbean Food Festival and Children's Fest, the Main Big Lime and the 'Green-and-Yellow wash down' on Wednesday.