— says top cop on Charrandass' investigation
COMMISSIONER of Police Leslie James has described an investigation into former AFC Parliamentarian, Charrandass Persaud who voted to remove the coalition government from power as a "matter of national security".
The top cop said a press conference will be held when the investigations conclude. Charrandass last December 21 voted in favour of the opposition- sponsored no-confidence motion which was declared passed.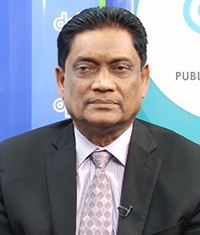 Questioned on what makes the case a matter of national security, the top cop said: "Well, you look at the matter, it is a matter where a former Member of Parliament is reported to have been involved in some matter allegedly and that is what we're dealing with."
He refused to disclose the nature of the investigation surrounding Charrandass, who has since sought refuge in Canada where he is a citizen.
Commissioner James said the police are yet to contact Charrandass and did not say who lodged a report against the former AFC member that would warrant the investigation.
"I cannot determine the credibility of the evidence but at this point, we're gathering evidence," James noted while declining to say whether the investigation surrounds bribery or gold smuggling of which Charrandass is also being accused.
"A matter was reported to us of national security and importance. I would say that at this point in time, as I said, it's a sensitive matter, please give due regard to that," the police commissioner said.
Meanwhile, Canadian High Commissioner to Guyana, Lilian Chatterjee has refused to comment on the investigation into an alleged breach of protocol involving one of her officers.
"It is not the Canadian High Commission's practice to comment on Consular cases involving Canadian citizens," the Canadian envoy related to media operatives on the sidelines of the Guyana Police Officers' Conference at State House on Thursday.
The Guyana Civil Aviation Authority (GCAA) has since launched an investigation into the alleged breach of security protocol at the Eugene F. Correia International Airport on December 22, 2018, involving a mission security officer of the High Commission of Canada, Richard Beliveau.
Beliveau reportedly escorted former Parliamentarian, Charrandass Persaud to his LIAT flight #LI 392 when he fled Guyana one day after voting in favour of a no-confidence motion against his government in the National Assembly.
Reports are that there was a breach in protocol when a security pass was also issued to PPP supporter Peter Ramsaroop, to also accompany Persaud to the airport's departure lounge.