A Guyanese pastor and his fellow missionary who is said to be from the United States of America were killed in a car crash in Calcutta,Saramacca about 56 minutes from the capital city of Paramaribo, in neighbouring Suriname on Thursday afternoon.
Dead is Patrick Tulsi, 73, a pastor of Living Water Fellowship of Corneila Ida, West Coast Demerara. The other victim was identified as a US Missionary called "Pastor Tim".
The accident occurred around 1500hrs on Thursday.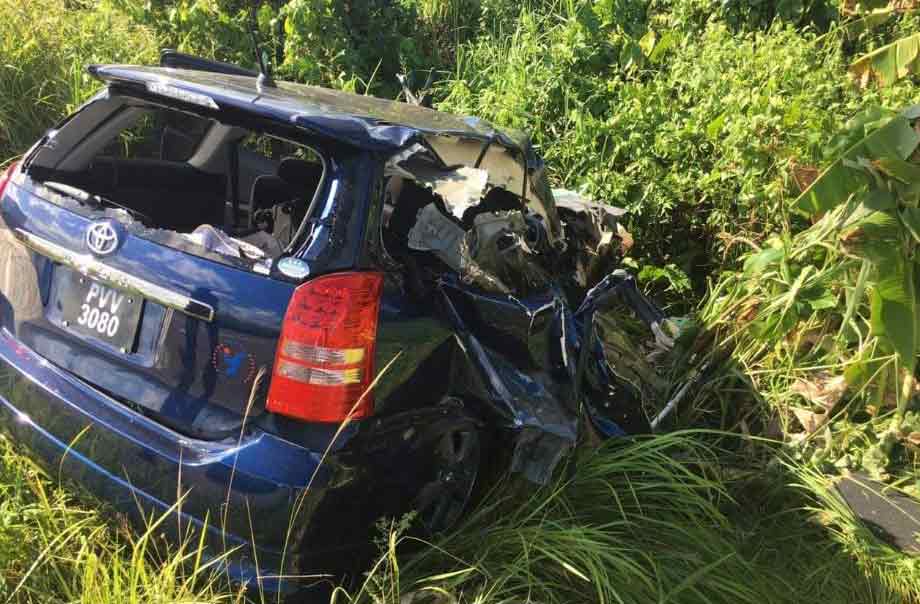 Sources in Suriname explained to this publication that the Blue Toyota
Raum bearing number plates PVV 3080 which was transporting the pastors, was heading towards Paramaribo while a truck was heading in opposite direction to
Nickerie.
The vehicles were said be both speeding when the driver of the car lost control and started to swerve into the path of the truck.
The truck driver pulled over to avoid a head on collision but came into contact with an electricity pole and the car struck the side of the truck.
Reports are the impact of the collision ripped the front axle with the wheel and CV joint out completely as the car spun around littering debris on the roadway before finally coming to a halt in a roadside drain.
The truck also ran into a clump of bushes nearby. Both the drivers of the truck and the car were reportedly flung out of the vehicles.
Persons who were on the roadway quickly rushed to the scene to render assistance, but reports suggest that the men of the cloth both died on the spot, while the drivers were taken to a medical facility.
Police in the neighbouring country is investigating the incident.