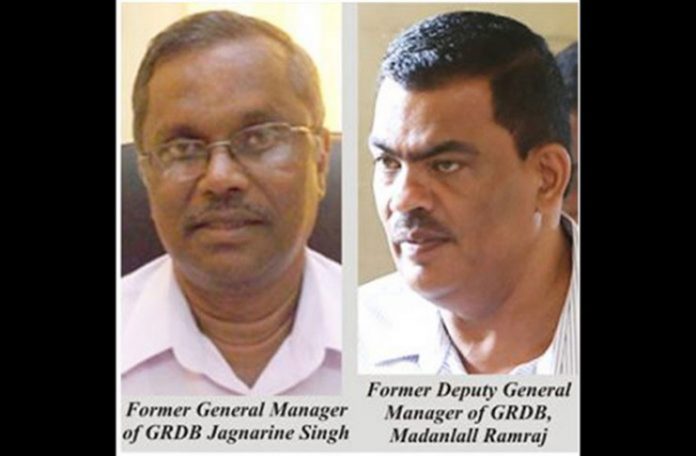 …SOCU failed to produce evidence, witnesses in case
A TOTAL of seventeen charges were dismissed against former General Manager Jagnarine Singh and his deputy, Madanlall Ramraj, due to the lack of evidence from the Special Organised Crime Unit (SOCU) prosecutors.
The duo were jointly charged with 17 counts of omitting to enter true entries of over $4.2 M into the company's ledger, knowing that it was contrary to standard operating procedures, between 2011 and 2012, at the company's Lot 16-17 Cowan Street, Kingston, head office.
When the matter was called on Tuesday before Magistrate Judy Latchman, SOCU prosecutors, Hewley Griffith and Lawrence Harris, were expected to call the two final witness for the trial. However, the prosecutors asked the court for an adjournment for the witnesses to be summoned, since they were not present in court.
The prosecutors had failed to tell the court that their witness, James, was before another court testifying in another SOCU matter. Defence attorney Glenn Hanoman made an application for the matter to be dismissed on the grounds that the prosecution was given several dates for the witnesses to be present in court.
The magistrate ruled in favour of the defence, citing that the prosecution failed to prove its case and was given enough time to present their case.
Singh and Ramraj are also currently before Magistrate Fabayo Azore on 17 other charges of fraudulently taking $5.1M or using it for their own use and benefit or any use and purpose other than for that of the GRDB.
Also before Magistrate Leron Daly for the same matters are General Secretary of the Rice Producers Association (RPA), Dharamkumar Seeraj; former Permanent Secretary of the Ministry of Amerindian Affairs, Nigel Dharamlall; former General Manager of the Guyana Oil Company (GUYOIL), Badrie Persaud; and Deputy Permanent Secretary in the Ministry of Agriculture, Prema Roopnarine.
They are charged with failing to make a proper entry into the register of a company, with intent to defraud $362M from the entity's Republic Bank account. In May, 2017, the six officials made their first appearance in court and were indictably charged. They were released on $500,000 bail each, with reporting conditions.
The six denied that in 2011, they omitted to enter some $52M in the GRDB ledger; they also denied that they omitted to enter a sum of $77.3M into the said ledger. Other charges read that between the years 2014 and 2015, the sums of $130M, $9.7M and $145M were respectively omitted from the GRDB register. The accused all pleaded not guilty to these charges as well.