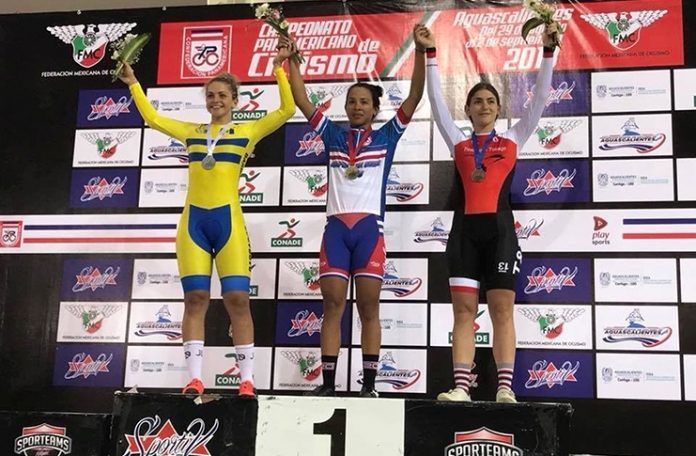 THE issue of fund­ing still re­mains the ma­jor challenge for the T&T Cycling Federation (TTCF) de­spite many record-breaking performances in the sport in­ter­na­tion­al­ly and locally, Public Relations Offi­cer Roxanne Ramnath has said.
Coming on the heels of a gold medal for the T&T sprint team of Njisane Phillip, Nicholas Paul and Keron Bram­ble, as well as bronze and silver medals for Paul at the Kilo metre Time Trial and Match Sprint events at the Pan American Elite Track Championship and Caribbean Championship in Mexico on the week­end, the riders have al­so earned valuable UCI points that qualified them to contest the UCI World Cups which will get go­ing lat­er this year and will run in­to next year.
From the World Cups, much needed points will also be given to riders to qualify for the World Cham­pi­onship, the last major qualifier for the Olympic Games.
Ramnath told Guardian Media Sports all these tournaments will be critical to the country's major goal of qualifying cyclists for the Olympic Games in Tokyo, Japan.
"The country is on a high right now with the achievements of the riders and we are hoping to maintain this for the World Cups and World Championship, but money remains our biggest setback. We are hoping to secure a sponsor for the sport right now," Ramnath explained.
The cycling federa­tion, being led by Robert Farier is set to have a crucial meeting of the executives at the weekend at which time members will decide on the way forward for the sport financially and otherwise.
Ramnath said they have been at­tempt­ing to se­cure a spon­sor for the sport ahead of the Olympics but re­quests to cor­po­rate T&T have so far come up emp­ty-hand­ed. She promised, how­ev­er, they will not quit as of­fi­cials are now con­fi­dent of Olympic qual­i­fi­ca­tion for many cy­clists and al­so po­ten­tial medals and tro­phies as well.
The TT cyclists have ex­ceed­ed all ex­pec­ta­tions in­ter­na­tion­al­ly claim­ing a bagful of precious medals at the recent Central American and Caribbean (CAC) Games in Colombia last month, and have shown con­tin­ued dominance, particular­ly in the sprints at the Pan Am Championships.
"In addi­tion to medals won, our cyclists have also broken records, such as Phillip in the sprint in Mexico, and have shown true de­ter­mi­na­tion to ex­cel such as Paul who came back from a ma­jor crash in the match sprint to claim silver. So there are high hopes of qualification to the Olympics as well as medals," Ramnath explained. (Reprinted form Trinidad Guardian)