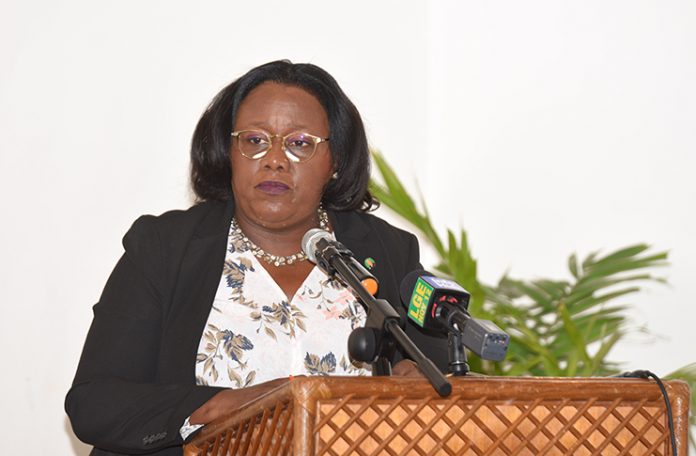 – over non-payment of royalties, other infractions
MORE than 50 per cent of the companies that quarry for sand and loam here are behind on their payment of royalties, but that's just the tip of the iceberg.
According to Minister within the Ministry of Natural Resources, Simona Broomes the quarrying sector is rife with infractions.
A case in point is that of the estimated $14, 723, 400 that should have accrued in royalty for 2017, only $6,424,900 was paid over to the Guyana Geology and Mines Commission (GGMC).
In the case of sand-pit operators, approximately 1,733,035 tonnes of sand was extracted in 2017, equating to some $25,995,525 in royalty, but only $19,563, 528 of that sum was collected by the Commission.
Addressing operators at the first ever Sand and Loam Quarry Workshop at the Herdmanston Lodge on Monday, Minister Broomes said the non-payment of royalty is one of the biggest problems in the sector, and that the GGMC will be taking stern action against defaulters.
"You cannot have a mining pit where you are conducting business; it's for a profit, and you extract and the royalty that is owed is not paid," Minister Broomes told the operators, and promised that the Mines Commission will be taking such infractions lightly.
Under the laws governing the sector, the GGMC has the power to issue cease-work orders and even reject requests for the renewal of mining licences.
But there's more in the mortar than just not paying royalty, as according to the minister, overall, the level of compliance with the regulations governing the mining sector is less than 50 per cent.
SLIGHT IMPROVEMENTS
And even though there have been slight improvements and expressions of willingness by operators to put corrective measures in place where honouring their obligations are concerned, Minister Broomes said the general attitude is to flout the law.
Illegal and hazardous mining are but just two of the infractions being committed by some operators in the sector, while others have not engaged in reclaiming and landfilling as stipulated in the regulations governing the sector.
While the GGMC four years ago established a quarry-monitoring unit, and there has been some level of success in the reduction of non-compliance, there are still a few other challenges.
Operators who breach the mining regulations are penalised through the issuance of cease-work orders, which are temporary means used to get operators to pay up or correct infractions which could include correcting safety hazards.
The Mining Act makes provision for those found culpable of breaches to be charged and taken before the courts. "A safer environment, the concerns of our workers, should be at the helm of our businesses," Minister Broomes said. It was noted that effective mining would safeguard the environment, and is in line with the A Partnership for National Unity + Alliance for Change (APNU+AFC) Government's push for a "green" economy. All must play their part.
MORE RESPONSIBLE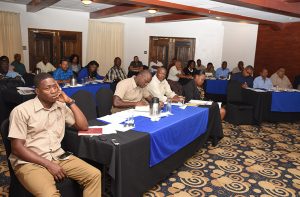 This being the case, GGMC Commissioner (ag), Newell Dennison is calling on quarry operators to mine more strategically by utilising operations management tools.
"Your business is an active project, and should be treated as such, balancing inputs and outputs to ensure its upkeep, and compliance," he said. "You are responsible for that; it is a covenant under your licence, such as conserving where you can, and reclaiming where you can."
Dennison also used the opportunity to encourage operators to fulfill their social responsibilities.
"Communities where you operate deserve a certain standard of welfare during and after mining activities. There is much available in this business that can bring good wholesome development to yourself, to your community, to this land of Guyana," the Commissioner said.
Of the seven stone quarries across the country, five are in Region Seven (Cuyuni-Mazaruni), while there is one in Region Six (East Berbice-Corentyne) and another near the old OMAI mining site in Region Ten (Upper Demerara-Berbice).
In terms of sand-pit operations, there are six active sites along the Soesdyke-Linden; two in Berbice; and one on the Essequibo River. There is also a loam operation on the Essequibo River.
Also on the Essequibo Coast, there are three sand-pit operations linked to Amerindian titles, while in Bartica, seat of administration for Region Seven, there is one sand-pit operation and one loam operation.