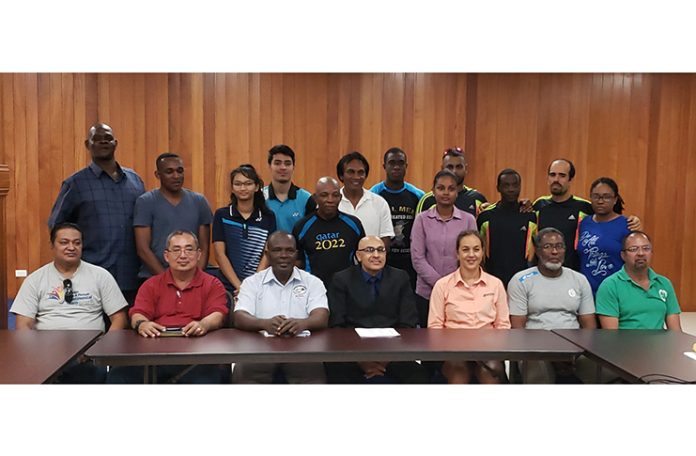 … 98 athletes, officials for Colombia
 SEVENTY-NINE athletes and 19 officials will represent Guyana at the July 19 to August 3 Central American and Caribbean (CAC) Games in Barranquilla, Colombia.
According to Juman-Yassin, president of the Guyana Olympic Association (GOA), this is the largest contingent of athletes ever to represent Guyana on the international stage, and he was more than pleased that (with the exception of swimming) all the athletes had to qualify for the CAC.
Guyana will be represented in the disciplines of rugby, track and field, badminton, squash, swimming, table tennis, taekwondo, boxing, cycling and hockey.
"I believe that this represents the best athletes in the various disciplines and it is expected that they will do Guyana proud," Yassin said, as he also pointed out that the team is fully funded by the GOA.
The coaches and managers present at yesterday's press conference, which was held at the GOA's headquarters at Liliendaal, all spoke profoundly of their chances at medalling in Colombia and are optimistic of doing well in the South American country.
List of athletes:
Badminton: Gokarn Ramdhani (coach), Priyanna Ramdhani, Narayan Ramdhani and Johnathan Mangra
Boxing: Terrence Poole (coach/manager), Keevin Allicock and Collin Lewis
Athletics: Johnny Sham (coach), Winston George, Troy Doris, Jenea McCammon, Leslain Baird and Emmanuel Archibald
Cycling: Joseph Britton (coach) and Romello Crawford
Taekwondo: Roland Thomas, Mark Choy, Adrian Spellen and Justin Choy
Squash: David Fernandes (manager), Juanita Fernandes (official), Ramon Chan-A-Sue, Mary Fung A Fat, Ashley Khalil, Taylor Fernandes, Sunil Seth, Jason Khalil and Nyron Joseph.
Table Tennis: Matthew Khan (Coach), Godfrey Munroe (coach), Priscilla Greaves, Trenace Lowe, Christopher Franklin, Natalie Cummings, Shemar Britton, Nigel Bryan, Joel Alleyne and Chelsea Edghill.
Hockey (male): Robert Fernandes (coach), Anthony Cole (manager) Jamarj Assanah, Aroydy Branford, Rayon Branford, Jerazeno Bell, Hilton Chester, Marvin Dannett, Jason DeSantos, Robert France, Randy Hope, Kareem McKenzie, Mark Sargeant, Meshach Sargeant, Medroy Scotland, Andrew Stewart, Steven Xavier and Dwayne Scott.
Hockey (female): LaToya Fordyce (Manager), Damon Woodroffe, Shebeki Baptiste, Vanessa Pires, Min Sodia, Culpepper Ashley, DeGroot Ulrica, Sutherland, Dominique DeGroot, Dacia Woodroffe, Nicole Eastman, Marisha Fernandes, Princess Wilkie, Samantha Fernandes, Alysa Xavier, Marzana Fiedtkou, Gabriella Xavier and Bushani Kaladeen.
Rugby: Peter Green (manager), Lawrence Adonis (coach) Ryan Gonsalves, Dwayne Schroder, Claudius Butts, Peabo Hamilton, Rondel McArthur, Godfrey Broomes, Osei McKenzie, Ronald Mayers, Patrick King, Richard Staglon, Avery Corbin and Jamal Angus.
GOA officials: Deion Nurse (chef-de-mission), Phillip Fernandes (deputy chef-de-mission) and Nalini McKoy (administrator).