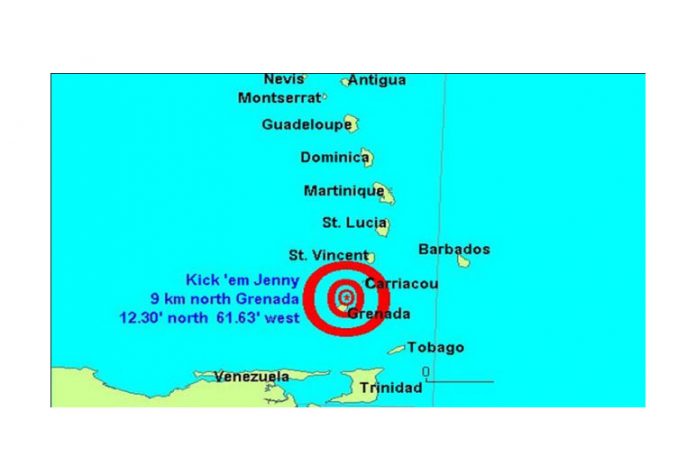 –increased activities recorded near submarine volcano
The National Disaster Management Agency (NaDMA) of Grenada on Monday afternoon reported an increase in activities of the Kick em' Jenny Volcano.
The alert level has been raised from Yellow to ORANGE , the Trinidad and Tobago Weather Center said. The agency  receives technical support from the University of the West Indies Seismic Research Center in Port-of –Spain, Trinidad
With this increase in the alert level, ships and other marine operators are asked to observe the exclusion zone of 5 km/3.1 miles.
The NaDMA in collaboration with the University of the West Indies Seismic Research Center will continue to monitor the activities of Kick em' Jenny and will update the public as necessary.
The rise in alert level signifies highly elevated level of seismic and/or fumarolic activity or other unusual activity. Eruption may begin with less than twenty-four hours notice.
The Trinidad and Tobago Weather Center stated on Monday that there is NO Tsunami threat to the twin-island republic or the region.
The volcano has erupted on at least twelve occasions between 1939 and 2001 , the last  being on December 4, 2001. None of the eruptions have been as large as that of 1939, and most were only detected by seismographs.
The larger eruptions have also been heard underwater or on land close to the volcano as a deep rumbling sound.