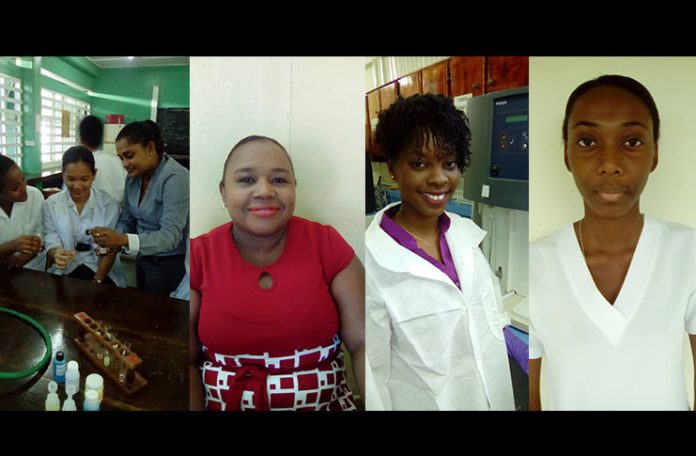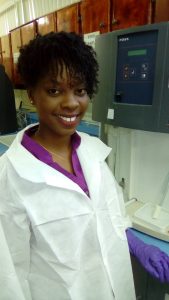 THE United Nations has designated February 11 each year, "International Day of Women and Girls in Science." Consequently,in observance, the Pepperpot Magazine features several women and girls who are involved in various areas of Science.
Shebeki Adams, age 26, is a Quality Assurance Chemist with Sterling Products Limited (SPL), where she is attached to the Ice Cream and Yogurt Plant. Come May, Adams will have completed two years with SPL. Adams attended St Rose's High School, graduating in 2008. She then proceeded to the University of Guyana and graduated with a Degree in Biology in 2013. As regards her career-advancement plans, Adams is considering to further her studies in Food Science.
Odessa Alleyne-Chester teaches Chemistry at St Rose's High School and has been teaching Pure Science for the past 18 years. She also taught Physics before finally deciding to settle with Chemistry. Interestingly, Ms. Alleyne-Chester said she did not have a grounding in Pure Science since the school she attended had only Integrated Science on its curriculum. Consequently, when she applied to the Cyril Potter College of Education (CPCE), she had intended majoring in Social Studies. As fate would have it, however, when she attended the interview she was offered the opportunity to major in Pure Science. She bravely accepted the challenge and the rest, as they say, is now history.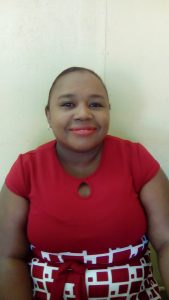 Ms. Alleyne-Chester related the feelings of gratification and accomplishment she experiences, as increasing numbers of students opt for careers in Science; a development that is in keeping with the policy of the school to encourage students to pursue such careers.In particular, she recalled her exhilaration when her first student to graduate from the University of Guyana with a Degree in Medicine, invited her to the graduation.
But she has no intention of resting on her laurels, as she plans to pursue a Masters in Chemistry in the near future.
Manifa Bourne is an Analytical Scientific Officer (ASO) attached to the Government Analyst-Food and Drugs Department (GA-FDD). Ms. Bourne graduated from UG with a Degree in Biology in 2014 and was appointed an ASO the following year.
"Science is intriguing,it brings about constant learning; it's an everyday learning process. It's not like learning something a particular way and then having to repeat all over again," Ms. Bourne said. "With Science, you have to learn things differently, compared to other disciplines; the other disciplines are a bit more restrictive and more limited. Science does not limit people, it is limitless." Ms. Bourne is now Supervisor of the Water Chemistry Laboratory and her responsibilities include, analysing water samples and documenting results. "The challenge lies in ensuring that the results are precise and accurate, because, as in any other aspect of food and drug operations, people's well-being is at stake," she said. Ms. Bourne said that she would definitely like to move on to another science-related endeavour, one that would allow her to delve deeper into her discipline, Biology.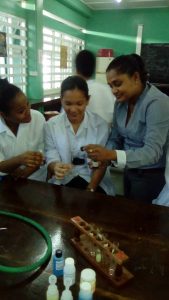 Hansrajie Ramoo teaches Integrated Science as well as Human and Social Biology at St Rose's High. Ms. Ramoo started teaching in 2003, after graduating from Saint Stanislaus College. After teaching for one year, she resigned to attend UG, where she graduated with a Degree in Biochemistry. Having enjoyed her first experience in teaching, she returned to the profession at St Rose's in 2009 and subsequently returned to UG and pursued post-graduate studies in Education. "I think that Science should be taught differently; a teacher actually has a lot of influence on a student's performance, as well as how a student reacts to that subject, so for me, I wanted to make a difference and teaching it, I have seen that change," she said. Ms. Ramoo plans to pursue a Masters in Biochemistry.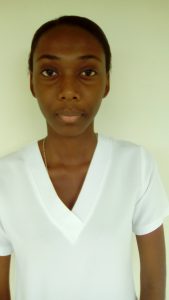 Keshana Thorne, age 20, is a third-year Pharmacy student at the University of Guyana. Ms.Thorne said that since she was in Third Form at Saint Stanislaus College, she had decided to pursue a career in Science when so many others were gravitating toward Business. She was motivated to study Pharmacy, she said because there always seems to be a paucity of health care workers, including Pharmacists. She, therefore, wanted to help make a difference. Upon completion of her one-year internship after graduation, Ms. Thorne intends to read for a Masters in Pharmacology or Psychology.