–deportee husband on the run
A MOTHER of five, who rejected sexual advances from her recently-deported reputed husband, met a gruesome death at their Lot 19 Sheet Anchor Village, East Canje, Berbice home on Wednesday.
Mintie Karamchand, 40, a waitress, was chopped and beaten repeatedly about her body, even as she attempted to escape through a wooden window on the lower flat of the house. The suspect, Goldburn December, is being vigorously pursued by a team comprising of police and civilians in the Canje River area. Police said that an argument erupted between the couple over the victim being unfaithful.
As a result, the suspect became annoyed, picked up a small wooden stool and dealt the victim several lashes on her head, causing her to flee the house by jumping through a window.
Not satisfied, the suspect armed himself with a chopper, went after the victim and inflicted several chops to her hands, feet and head, causing her to collapse, after which he allegedly collected a piece of rope and fled across the nearby Canje River.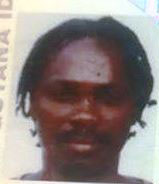 The victim was rushed to the New Amsterdam Public Hospital where she succumbed at about 10:30hrs while receiving treatment. This newspaper understands that the couple's eldest daughter, Drucilla December, was on the upper flat with her 18-day old baby, when she ran to her mother's assistance. At this time, her father was chopping the woman; she got between them, but her father warned her to move.
"I became afraid. I had the baby in my hand. I recently delivered via caesarian section. I looked at my father. He looked strange. I decided to go. I hugged my daughter and ran, alerting neighbours of the tragedy as I fled. But no one went to her rescue as they were all afraid," the distraught daughter said.
A neighbour, identified as "Miss Barbara," said it was just before 09:00hrs when she her loud screams emanating from the couple's yard.
"I looked through my door and I saw Drucilla running off with the baby, screaming loudly. I rushed to the house and I saw Goldburn chopping at his wife. I shouted at him to stop, and he told me to mind my own business. He later left the yard as the woman left bleeding ; but seconds afterwards he returned to the yard, picked up a bench and dealt her several lashes to her head before walking off with a rope," Miss Barbara said.
The witness said after neighbours converged at the scene, attempts were made to arrest the suspect, but he fled towards the Canje river where he was seen plunging overboard.
ABUSIVE RELATIONSHIP
Meanwhile, Drucilla related that when she returned to the scene, she saw her mother's bloodied body, and it was her step-grandfather who assisted in taking her to the New Amsterdam hospital where she was pronounced dead.
Further, this newspaper was told that the suspect, Goldburn December, was in the habit of abusing his wife, and it was because of acts of cruelty that he had left Guyana eight years ago. It was also revealed that eight years ago, Karamchand was in a relationship with someone else, who was also beaten by the suspect, resulting in criminal prosecution. However, the status of the matter is unknown.
Deported
Guyana Chronicle understands that in December 2016, the suspect had threatened to kill his wife, but the threats were not taken seriously. However, later that month, he was returning to Guyana from Suriname via overland, when he was intercepted by Surinamese police. A search was carried out on his personal belongings and it was discovered that he had a pistol concealed in a radio. The suspect was arrested, charged and was sentenced to six months imprisonment in Suriname. At the conclusion of his sentence, he was deported to Guyana in May 2017.
Upon his return home, the now unemployed man would allegedly attempt to make sexual advances to his wife, but an argument would usually erupt.