DURING the course of last week, staff of the Georgetown Public Hospital Corporation (GPHC) discovered ten vials of the pain medicine, pethidine missing from a cabinet.
Reports are that the hospital security is investigating the theft of the medicine, which was stored in the Male Medical Ward of the hospital and staff nurses discovered the drug was being removed from the unit as the week progressed. The syrup was stored in an area which is only accessible to the nurses.
According to a hospital source, the drug provides relief to pain quickly and the staff suspected the drug was being removed by one of their colleagues and sold outside the hospital since it is in demand. All nurses who work at the ward, including those who were off-duty, provided statements to the hospital investigators this week and according to the source, a male nurse is being treated as a prime suspect.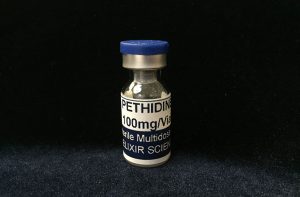 The individual was accused of being involved in a previous incident in which a quantity of EPO injection went missing. The drug is used to treat anemia in patients with chronic kidney disease. In recent months, reports have surfaced in which persons have been accused of illegally removing drugs from public medical institutions and storage facilities across the country.
In March, police launched an inves
tigation into missing drugs and medical supplies at the Suddie Public Hospital and several medical officers attached to the hospital were questioned. Three persons, including an ambulance driver and an assistant pharmacist, were taken into custody and placed on $20,000 bail each.
The police was called in to investigate a case of fraud at the Suddie Public Hospital after drugs and medical supplies went missing one week after arriving there. Last month, a Ministry of Public Health employee was charged with stealing drugs from the Materials Management Unit (MMU) Bond at Diamond, East Bank Demerara.
Daquan Griffith was granted bail in the sum of $50,000 after appearing before City Magistrate, Leron Daly and pleaded not guilty to the offence of simple larceny. Griffith allegedly stole four boxes of On Call Plus Blood Glucose test strips, valued $20,000, property of the Ministry of Public Health.