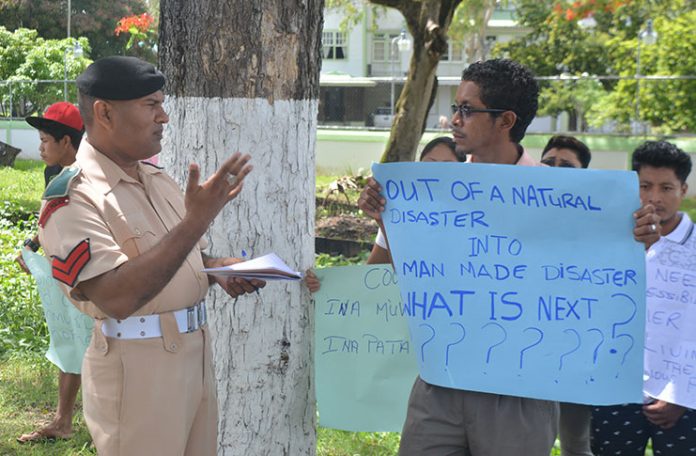 EMOTIONAL in tone, Village Toshao of Chenapau Edward Mc Garrell related that his people were treated like criminals after they were arrested on Sunday for mining illegally in the protected Kaieteur National Park (KNP).
Joined by 30 others on a protest line in front the Ministry of the Presidency on Wednesday, the Toshao recalled the series of events which led to the arrest of 21 residents of his community after they were accused of conducting illegal mining activities at KNP.
Mc Garrell said that on Sunday after he heard of the arrests, he saw about six residents of his community being escorted by officials of the Guyana Geology and Mines Commission (GGMC) and soldiers with assault rifles.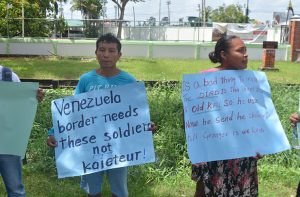 "Our people are not aggressive. Tears flowed from my eyes when I saw that because we are not aggressive people; we are peaceful, honest hardworking people trying to earn a living," the village leader said.
He noted too, that the Region 8 community was severely affected by recent flooding and residents are now trying to start rebuilding their lives. He said there is not much for residents to do outside of mining.
The Toshao also expressed his desire to meet with President David Granger to share the plight of his people with the Head-of-Sate.
"We don't know if his [President Granger's] advisors are telling him the right thing. I know many times the advisors carry wrong information. If they are carrying the right information and he is still acting like this, then we would like to know why," Mc Garrell said, questioning if this was the 'thank you' the community was getting from the government after 98 per cent of its residents voted for them in 2015.
Further, the village leader said that the National Toshao's Council (NTC) of which he is a member, has been made aware of the issue and that body has extended its full support to the miners and residents of Chenapau.
Under threat
Government has said that in an effort to clampdown on mining in Protected Areas, it launched the joint services operation in the Kaieteur National Park (KNP), where the Protected Areas Commission (PAC) and the Guyana Defence Force (GDF) had discovered, through aerial reconnaissance, 20 illegal mining camps.
On Sunday, an operation by members of the joint services as well as personnel from the Guyana Geology and Mines Commission (GGMC) was launched, following an initial discovery of four active mines, one mine where activity was uncertain, and eight active camps inside the KNP by the PAC on February 16, 2017. Of the five mines, three had already been issued cease orders by the GGMC in 2014, with reinforcement actions as recent as 2016. Despite this and two site visits by the GGMC, following the issuance of the cease orders, at least two of the three mines still remained active, the Ministry of the Presidency said in a release.
A further reconnaissance by the GDF on May 5, 2017, less than three weeks ago, revealed that there were, at that time, 20 camps. At one site, there was evidence of water pollution and freshly exposed sand tailings, according to a report from the PAC. Commissioner of the PAC, Ms. Denise Fraser, in an invited comment, said illegal mining in the area has been taking place for a number of years despite repeated warnings. Predating the above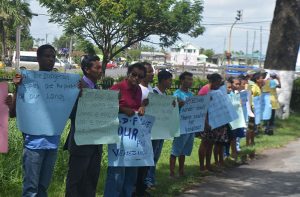 mentioned cease orders there had been efforts in 2013 to end mining activity in the Park.
"What we have found is that in some areas where miners have been previously moved, they have gone back. So there is a need for strong actions so that a message can be sent. Minister of Natural Resources, Raphael Trotman also in an invited comment, said that the KNP is a national protected area and it is incumbent on the Government to send a strong message to those who are bent on breaking the law. The Minister noted that only last year six operators were removed from the area. "Last year, we sent a team in and it was during that exercise that we even lost a member of the Guyana Police Force after the boat he was travelling capsized, and yet we have persons returning to the Park and mining. The Government must, therefore, send a strong message to the individuals because it is a national protected area and part of our national patrimony," Minister Trotman said.
Travelling home
On the protest line too on Wednesday, was Calixtos Francio, one of the persons who was arrested on Sunday. According to him, the mining team was travelling home when soldiers and GGMC officers approached them on a trail and escorted them to KNP. "They brought us to the Park like some criminals with AK 47s. We are not criminals; we are honest, hardworking people. We are looking for a daily bread. They fool us and told us that GGMC officers will be at Kaieteur Park and that we just have to report there. When we reach there they told us we have to go to town," the distraught man related.
He said that after they were brought to Georgetown, they were taken to Criminal Investigations Department (CID) and were held "like criminals." The arrested persons, which included 18 men, two women, and a child, were charged and released on Tuesday evening.