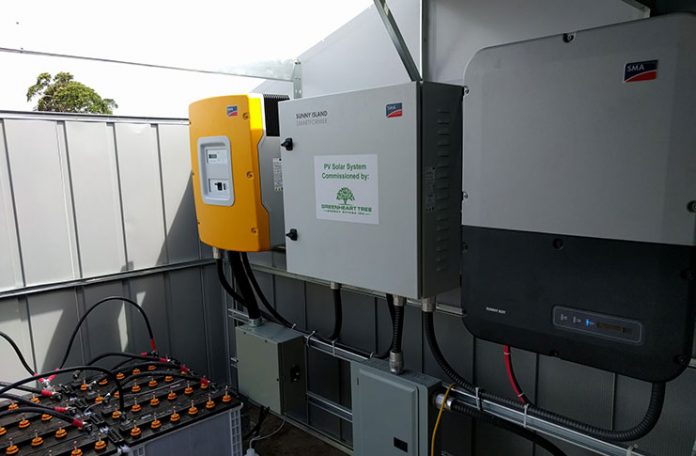 HEEDING Government's call for overseas-based Guyanese to return and invest in Guyana, a Guyanese company with international partners is now tapping into the local renewable energy market.
GreenHeartTree Energy (GHTE) has for more than a month been powering the Paramakatoi Flavours Sun Dried Tomato Processing Plant, using its 10kw system.
GHTE was formed following President Granger's call for overseas-based Guyanese to return, invest and contribute to the development of the nation during his visit to Toronto, Canada in September 2015.
The company, headed by Esmonde "Gamo" Klass, Chief Executive Officer (CEO), has since registered in Canada and Guyana.
In a press statement, GHTE said its intention is to forge relationships with multi-national companies that will bring investment to Guyana.
"We are also working to ensure that these relationships result in the transfer of technological expertise, the opening up of more economic opportunities, strengthening of the manufacturing base and new capital inflows," the company said.
As part of this plan, GHTE has signed joint-venture agreements with five successful international companies that span industries, including renewable energy, large infrastructure development like highways and power generation, and home construction, using new technology materials.
In the large infrastructure development sector the company plans to get involved in the construction of oil facilities, high span bridges, deep water ports and water treatment plants.
"Our strength lies in the international relationships we have established," said Chief Executive Officer Klass.
"We have a Polish-Canadian International businessman and a Shanghai-based business owner, along with a Canadian engineer, who also owns his own engineering firm, who are also members of the GHTEE team. We see the opportunities to contribute to Guyana's development and we are here for the long haul," he added.
However, the company's immediate focus is to provide affordable PV solar energy solutions for the residential and commercial markets in Guyana.
"We are looking to introduce to the market a PV solar system for the owners of homes and businesses that will reduce their dependence on GPL for power and lessen their electricity costs at the same time," said Klass.
He added: "With this approach we will help to eliminate blackouts as there will be a collective alternative source of electricity, resulting in less demand for power from the utility."
According to him, the Paramakatoi Project is the beginning of GHTE's commitment to long-term investment in Guyana's economy that will see the transfer of knowledge, investment of training and the utilisation of local skills in job creation.
For the Paramakatoi Project, GHTE employed local contractor, Christopher Cheong, to build the concrete foundation for the PV Solar Panel array. The company also flew in from Georgetown, Aubrey Marks, an experienced solar system installer, who worked alongside a Canadian-based engineer from GHTE's supplier, Franken Solar Americas, to install the system.
Since the system was installed on March 3, 2017, the Pakaraima Flavors Sun Dried Tomato Processing Plant has been running on a reliable source of green energy without a hitch. The system is equipped with a feature that allows the owners to monitor its energy load via the Internet 24/7.
According to the company, its engineers ran multiple simulations to determine the correct system size based on battery storage capacity, solar PV capacity and the predicted electrical loads requested in the Request For Proposal (RFP) by the Institute of Applied Science and Technology (IAST).