PLAY in the Georgetown Cricket Association (GCA)/Carib Beer T20 tournament commenced last weekend with several matches over the two days. At the end of two rounds DCC, GCC and Police remained unbeaten.
Summarised scores for the games are as follow:
On Saturday: Hosts Malteenoes Sports Club (MSC) defeated Gandhi Youth Organisation (GYO) by 31 runs. Hosts Police Sports Club edged Guyana National Industrial Corporation (GNIC) by six runs. Demerara Cricket Club (DCC) whipped University of Guyana (UG) by 142 runs and Georgetown Cricket Club (GCC) won by seven wickets against visitors Guyana Defence Force (GDF).
MSC registered 155-4 in 20 overs. Kandasammy Surujnarine top-scored with 50 from 34 balls. Darshan Persaud and Prakash Chowtie had two wickets each for GYO, who finished on 124-9 in 20 overs in their reply. Irfaan Alli 33 and Kishan Singh 26 were the best contributors with the bat. Steven Jacobs grabbed 2-28.
Police made 181-6 from 20 overs. Mark Rhobe 39 and Sherwin McPherson 20 contributed with the bat. Jermine Grovesnor and Ryan Shun took two wickets apiece for GNIC.
GNIC, in reply, reached 175-6. Ryan scored Shun 80 and Ovid Richardson 50. Raun Johnson claimed 3 for 15 from four overs and Jason Heyliger 3 for 9 from two overs were the best bowlers for the lawmen.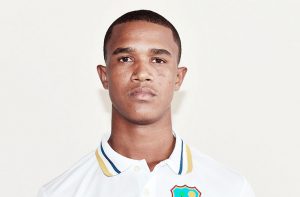 DCC, batting first, made 255-6 in 20 overs against UG. Christopher Barnwell hit 60, while Sherfane Rutherford 48, Brian Sattaur 40, Kemol Savoury 37 and Paul Wintz 30, all contributed to the huge total. Linden Austin 2-36 and pacer Ray Newton 2-57 led the bowling.
UG then reached 113-9. Darnell Douglas scored 31. Cohen Ismond had 4-25, while Steven Sankar and Trevon Garraway supported with two wickets each.
GDF were bowled out for 93 in 19.4 overs, with Leon Andrews making 22. Robin Bacchus claimed 3-23 and Anthony Adams 2-9. GCC in reply reached 94-3 in 19 overs. Martin Pestano-Belle scored 31 and Renaldo Ali Mohamed 25 not out.
On Sunday: DCC defeated GNIC) by eight wickets. GCC got past MSC by seven wickets, Police whipped TSC by nine wickets and Everest Cricket Club beat GYO by eight wickets.
GNIC posed 149-7 from 20 overs, with Ryan Shun hitting 52. In reply, Tevin Imlach hit an unbeaten 87 to see his team home comfortably.
MSC, batting first, made 128-7 in 20 overs, with Marcus Watkins hitting 46 from 36 balls, while Ncosie Barker and Steven Jacobs scored 21 not out and 15 respectively.
In reply, GCC reached 129-3 in 17 overs, as Renaldo Ali-Mohamed blasted 55, with five fours and three sixes.
TSC, batting first, were bowled out for 74 in 14.5 overs. Steven Harris impressed with 4-9, while Raun Johnson and Ricardo Adams snared two wickets each. Police raced to 78-1 in 7.5 overs, with Alex Algoo hitting an unbeaten 51.
GYO were bowled out for 91, with only Chris Deonarine (31) surpassing 20. Chandrapaul Hemraj got three wickets. In reply, the hosts successfully reached 92 for the loss og two wickets.
The tournament continues this weekend.