Outspoken and ambitious are just two words that can effectively describe this young man. Additionally, with a spark for leadership and passionate about youth empowerment, 19 year old Eden Corbin is perhaps the shining role model for Guyanese youths.
This young man, after being the first Guyanese to be elected as Chairperson of the International Affairs Committee (IAC) for the Guild Council at the University of the West Indies (UWI) St. Augustine Campus only last week, shared his story with the Guyana Chronicle.
Corbin is currently a first year Law student at this Trinidad University but he wasn't always the diligent law student he is today. The young man studied Business while he attended Queen's College and then proceeded to study law at the Bishop's High School after graduating.
"My aim was always to do law, but I decided that I would prefer to have a good foundation… like a plan B, just in case it [law] didn't work out," Corbin highlighted.
Stumbling upon the opportunity to run for the position of Chairperson of the International Affairs Committee (IAC) just after entering UWI, Eden wasted no time in seizing this opportunity.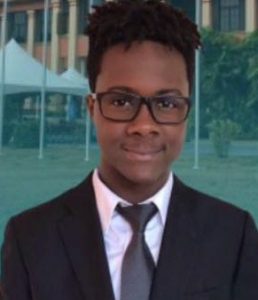 "I decided to run because I found out about the position and what I could do with the position," he related and underscored, "There's more to life than just studying."
After investing much of his time and sharing his ideals and opinions at several forums in the University, the lad was elected as the IAC chairperson edging past his only opponent and yet another Guyanese studying at the University – Kena Melville.
He explained that the Chairperson of the IAC has the herculean task of dealing with the representation of all international matters relating to the students' guild and is responsible for the Island Associations and representing all regional and international students attending the university.
While sharing his ideals, he expressed, "I intend to promote regionalism over nationalism because we can do so much more if we were to truly unite all of the CARICOM countries and operate as one."
Interestingly however, this isn't a case of Corbin now 'breaking out' of his figurative 'shell' but Corbin recounted, "I don't think I ever did something this big before."
Throughout his senior academic life, while his academics were definite priority, Corbin never concentrated all his efforts on academics. Instead, he made himself an outspoken and well-rounded person, combining his love for music and poetry with his passion for activism.
"I wasn't always the smartest in my class but I didn't let that define me. I made the best out of what I was given," Eden highlighted.
In 2015, he acted as the Prime Minister of Guyana's youth parliament hosted by the Guyana Branch of the Commonwealth Parliamentary Association to commemorate Commonwealth Day 2015. Corbin, alongside 34 other youths aged 14-17 engaged in 'parliamentary discussions'.
His love for poetry and music is something which he has shared with many persons on numerous occasions. His spoken word sessions have become very popular and for the observance of International Women's Day 2016, the young man charmed a packed Arthur Chung Convention Centre (which was attended by several government ministers and prominent persons in society).
Earlier this year, he also engaged in outreach programs in Guyana on behalf of UWI where he visited several of the top secondary schools. Here he related the pros and cons of studying at UWI and urged students to further their education.
Now, in addition to occupying the position of the UWI IAC chairperson, Eden is also the resident of UWe speak- a student activist group that uses poetry primarily to allow students to express their views on social issues and share their ideas.
Currently, Corbin is juggling his youth empowerment and activism group, his new role as the chairperson of the IAC and his academic endeavors. Nevertheless, Eden is anticipating what the future has in store for him.
Before ending his chat with the Guyana Chronicle, Eden urged all young people to never let their situations define them. "Your worst enemy is you," he attested and said, "You can do anything with the right mindset and drive."