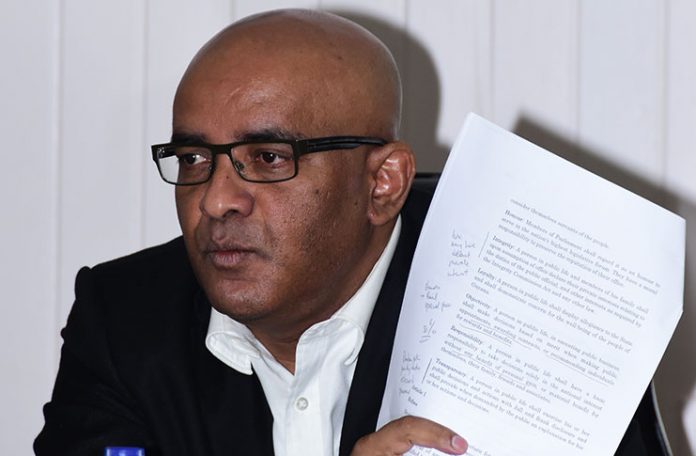 THE Opposition, People's Progressive Party (PPP) is against the proposed amendments for the Integrity Commission Act 1997 alleging that it will put enforcement powers in the hands of the President, David Granger or even the Minister of State, Joseph Harmon.
Prime Minister, Moses Nagamootoo, had said last year that the administration was looking at creating a mechanism through which the constitutional body could have oversight at the level of the National Assembly. Nagamootoo noted that the role of the body in ensuring the declaration of assets by public officials cannot be underestimated. However, the proposed amendments to the Act were rejected by the Leader of the Opposition, Bharat Jagdeo.
Jagdeo disclosed at a news conference that the government has disbanded the Commission and sent the staff home. "After doing this, they took and have all the documents that should be with the constitutional body," said the Opposition Leader.
However, for years, the Integrity Commission has been without commissioners. In its manifesto, the APNU+AFC coalition had pledged that it "will appoint an independent Integrity Commission as a matter of urgency, staffed by persons of the highest integrity."
But Jagdeo contended that the Government, with the proposed amendments, is creating a "sham" of enhancing transparency. "Instead of promoting transparency they will put the fate of parliamentarians in the hands of the Minister of State, Joseph Harmon…it is stated in the integrity law that a person will be removed if they contravene any of the provisions, so the executive should have no control over the commission and should submit statements to the body instead," lamented Jagdeo.
He stressed, the Act allows the commission to take prosecutorial actions against the president and the amendments will put the ability to remove people from public life into the hands of Harmon. This decision sets the pace for further "witch-hunting" Jagdeo claims.
Meanwhile, Nagamootoo had said, since the establishment of the Integrity Commission Act in 1997, the commission has been in many ways "a toothless poodle." He added "it has a lot of bark and no teeth," noting that it is critical that such an important commission has a policing aspect that allows for the investigation and prosecution of public officials who either do not declare their assets, or are found to be in violation of the law.