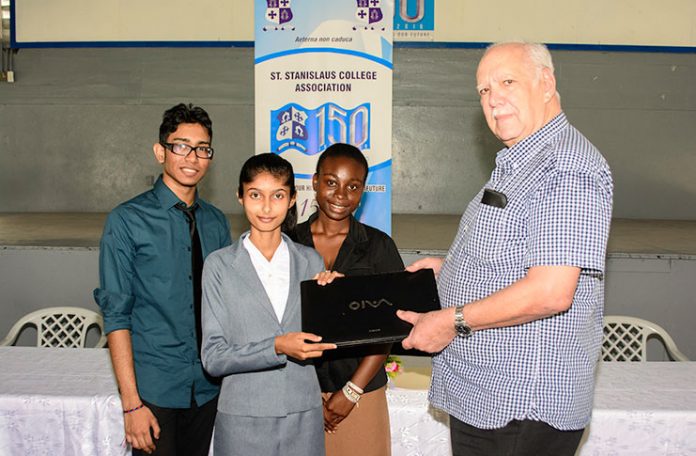 FOUR former students of St. Stanislaus College were on Wednesday awarded scholarships to the University of Guyana by the St. Stanislaus Canadian Alumni Association and the St. Stanislaus Guyana Association.The recipients of the scholarships are Shemaka Felix, Arianna Mahase, Jemuel Parsram and Rosemary Shivbarran.
Chairman of the St. Stanislaus Association Board of Governors, Chris Fernandes congratulated the students in a brief message at the awards ceremony. President of the St. Stanislaus Association, Kashmir Khan said as the school commemorates 150th anniversary, the associations have decided to honor the students with scholarship awards which include tuition, a laptop computer, book awards and transportation fund. The Laptops were all presented by the Canadian association.
Khan said as part of the scholarship agreement, the students are required to maintain a high Grade Point Average (GPA), and return to serve St. Stanislaus College for two years, upon completion of their Bachelors' degrees.