THE 'La Masia' Academy in Catalonia, Spain, has become very famous in recent years. That academy is renowned as the developmental hub responsible for the 'Tiki-Taka' football style of Barcelona's recent success in European top flight football, which has captured the imagination of football fans worldwide.Spain's preeminent rise in international football which saw them win three consecutive international tournaments (European champions 2008, 2010 & 2012) was a direct result of Barcelona winning four consecutive La Liga titles and two UEFA Champions League titles during that period.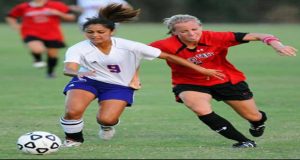 Eight players of La Masia upbringing who were present in almost all those triumphs for Spain were namely: Xavi Hernandez, Carlos Puyol, Gerard Pique, Andres Iniesta, Sergi Busquets, Pedro, Cesc Fabregas and Victor Valdes.
From a Guyana perspective, the country's senior national female football team – Lady Jags – who completed a historic 2-1 win over the Jamaica Reggae Girls on November 20 to advance to the Olympic Qualifiers round meant that by default, along with their appearance in the 2010 CONCACAF Gold Cup, they have done more than the men's team on the international stage.
Similarly as aforementioned with the Spain/Barcelona connection, eight ladies for the Lady Jags have been at the foundations for these two notable successes: Captain Ashley Rodrigues, Alison Lawrence, Briana and Kayla De Souza, Ashlee Savona, Mariam El-Masri, Justine Rodrigues and Olivia Gonzales.
From a personal media perspective I was lucky enough to be present at easily the two most significant games in the complicated history of international football for the Guyana senior teams. No doubt the ladies beating of Jamaica was as significant as the men topping Trinidad on November 11, 2011.
However this is where the comparison with the men's and women's teams ends as the atmospheres and circumstances surrounding both these iconic results highlight an unfortunate lack of appreciation for the current crop of Lady Jags in the Guyanese football fraternity.
While the men on that famous night in 2011 had the luxury of superb home crowd at the Guyana National Stadium, alongside television coverage where the goal by Ricky Shakes can be seen by anyone on youtube today, the Lady Jags played on neutral territory in central Trinidad where the game was not recorded and only a select few who saw Mariam El-Masri's excellent goal, would be able to reminisce on its excellence.
However the Lady Jags are a humble and resilient bunch and five of the 'Foundation 8' spoke about their journey with the national team as they prepare for February's 2016 Olympic qualifiers in Houston, Texas, versus Canada, Trinidad & Tobago and Guatemala.
Since their appearance in the 2010 Olympic qualifiers, Guyana football has arguably gone through more administrative mess than any Caribbean sporting institution. This has had a direct implication on the Lady Jags since they became totally inactive.
In the words of team right-winger Ashley Savona, the Lady Jags are treating the potential uncertainty as ammunition ahead of the Olympics qualifiers.
"We never knew why we weren't playing and watching other teams play friendlies was disappointing. But it has created a fire in the belly, that these games could be our last major set for a while and we want to show the world what we are made of," stated Savona who currently works as an assistant coach at the University of Alabama alongside her professional career at Louisiana's North Western State University and League One Ontario.
"We have always just wanted support of the GFF. I'm not going to get too involved in the politics, just going to stay focused on what we can control on the field," said national captain Ashley Rodrigues
She continued: "The way we played in CFU round makes us all very optimistic and I believe we will surprise some people, but not ourselves because we deserve to be there"
The oldest member in the squad, Alison Lawrence, who plays in the Michigan Women's League further believes that the majority of the squad would have found playing professionally during the five-year period has helped to off-set the inactivity.
"This belief is evident when you look at how our level of play has progressed even though we were not together," explained mid-fielder Lawrence.
"I believe all the ladies are now more mature, aggressive, confident and skilled by virtue of having collegiate/semi pro experience under their belts. I am optimistic that the current leaders in place at the federation will support us going forward as we seek to put Guyana on the map and become a formidable contender in the arena of women's football."
Considering that all eight foundation members plus a few other squad members are born in Canada, the opening encounter on February 11, 2016 provides a game of strong emotional and football standpoint for the Lady Jaguars.
Defender Kayla De Souza, who recently was awarded defender-of-the-year for her League One Ontario Club, Durham FC United, is simply eager to wear the Guyanese colours in the fixture.
"All the Canadian-born players are very excited to play against Canada just like any other country. Once we put on the green, gold and red jerseys we represent Guyana – the country, the people and our families – that's who we fight for".
"Hearing both countries' anthems before the game will be an emotional one", noted Kayla's sister and fellow defender – Briana De Souza.
"Guyana just making the 100 ranking will definitely be the underdogs, which means we have nothing to lose. Although it won't be an easy one, we will do our very best to perform at our best and come out with a desirable result. Anything can happen in football and I'm confident it will be a good match."
"It is with great pride that I play for Guyana against my birth country Canada. I have a lot to prove and it has been a blessing that coach Mark (Rodrigues) has faith in me to compete with my Guyana sisters at such a high level. It will be a lifetime achievement to compete against one of the best teams in the world," said Lawrence.
One of the notable factors of the Lady Jaguars is the philosophy of coach Mark Rodrigues: that playing international football is an honour and they should do it for free. This is widely supported by all the ladies in the camp and as captain Ashley Rodrigues eruditely summarised – the current group of Lady Jags are essentially playing to inspire the next general of Lady Jags – especially the local-born Guyanese to take up the sport.
"A big part of what we are doing is to help female football in Guyana.
"Nothing of what we are doing is for the glory, that's why all the girls understand that and accept the non-pay position. We don't expect to get paid to represent a country that we want to in the first place. "We hope to inspire for however long our journey together lasts, we will have inspired young female footballers in Guyana to want to play football," concluded captain Ashley Rodrigues.