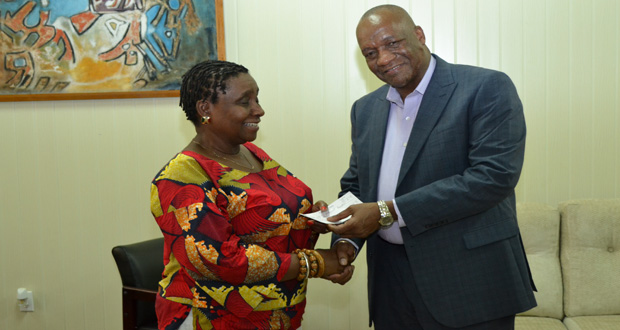 THE Government of Guyana yesterday donated $2 million to the African Cultural and Development Association (ACDA) for the hosting of Emancipation celebrations.According to a release, the donation is timely as it comes as ACDA prepares to host this country's 2015 Emancipation celebrations, today.
Minister of State Joseph Harmon handed over the cheque, yesterday, to ACDA's volunteer Gail Napoleon, on behalf of the Government and President David Granger.
He congratulated ACDA on the work the association has been doing and expressed the hope that Government's financial contribution "will make the celebration better than it was last year."
The ACDA volunteer thanked the Minister and said ACDA's aim is to eventually make it convenient for all Guyanese to participate in her organisation's annual Emancipation activity at the National Park, free of charge.
Yesterday's donation brings Government's financial assistance to ACDA thus far to $5 million, as $3 million was previously handed over to the organisation.