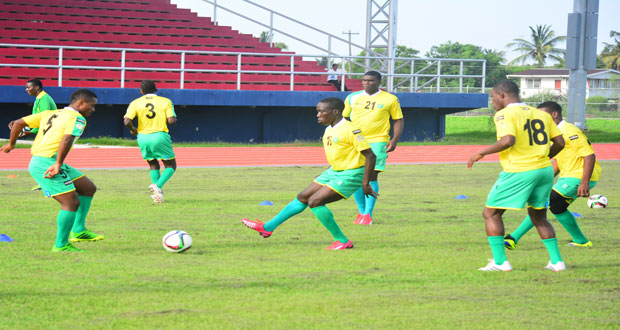 HEAD coach Jamaal Shabazz said that the current squad is a "manifestation of experimentation" from the Golden Jaguars' last four matches, as the team held their first practice session ahead of their June 10 and 14 World Cup Qualifiers against St Vincent and the Grenadines. The team gathered yesterday at the National Track and Field and Football facility at Leonora under the guidance of Shabazz and his technical staff following the team's announcement last Saturday.
Behind Shabazz, the Golden Jaguars have played four International friendly this year, winning two (St Lucia and Grenada), drawing one (Barbados) but losing to Suriname 1–0.
The Guyana Football Federation (GFF) has called what is believed by pundits to be one of the best Golden Jaguars unit featuring Neil Danns (Bolton Wanderers) and Matthew Briggs (Millwall FC).
Ricky Shakes, (Boreham Wood FC), will be making a return to the squad after an almost three-year absence.
Shakes' Boreham Wood FC teammate Sam Cox, along with striker Marcel Barrington (Leicester City) and goalkeeper Matthew Allick are the debutants on the team.
Shabazz said that the new overseas-based players give his side a lot more quality and their inclusion; forcing the other players to "battle for their places – which all coaches want – that type of headache when it comes to team".
Asked what the newly acquired players bring to the squad, Shabazz only stopped short of calling them "promise bricks" and quipped that "you cannot build a house on some bricks that a man promised you".
"When they get here, how they adapt to the team tactics and overall strategy will determine what they bring to the set-up. What we know for sure is they've all got good foot-balling ability but now talent is not enough, we need talent plus players and I am proud that Guyana is reaching that stage to demand that players bring more than just talent," Shabazz said.
Meanwhile, Shabazz also pointed out that despite the overseas-based contingent are all playing at a higher level than the locally based players, "there's no inferiority in the minds of any of the players".
In fact, he stated, "The national team doesn't have an issue of foreign or local and the person to decide how we build this chemistry has not been born yet. Therefore, when the team comes together, it will be a bunch of Guyana national team players fighting for a spot."
Looking at the competition, St Vincent and the Grenadines have completed a successful outing at the Windward Islands football tournament, winning the championship and playing undefeated.
Nonetheless, Shabazz believes that the Golden Jaguars are more than equipped to withstand the 'Vincy Heat'.
"I've seen them play in February and last weekend when they won the Windward tournament and I'm very impressed with the progress of their team, as someone who is a strong advocate for Caribbean football. They're an interesting challenge for us, since their attacking players are very quick and athletic." Shabazz noted.
The other overseas-based players in the squad are: Walter Moore (FF Jaro), Trayon Bobb, Pernel Shultz (Caledonia AIA), captain Chris Nurse (Carolina Railhawks), Emery Welshman (Real Monarchs), Kevin Beaton (USA), Brandon Beresford, Daniel Whyte, Anthony Whyte (Canada) and Akel Clarke (Central FC), Adrian Butters (Toronto FC),
The local-based players called by head coach Jamaal Shabazz are: Jamaal Smith Chris Camacho, Sheldon Holder, Konata Manning, Daniel Wilson (Alpha United), Derrick Carter (Western Tigers), Eon Alleyne (Fruta Conquerors), Vurlon Mills, King Solomon Austin, Colin Nelson, Joshua Brown, Dwayne Jacobs and Clive Nobrega (Slingerz FC).
By Rawle Toney