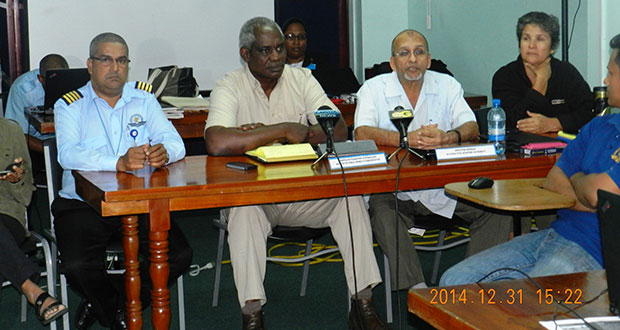 THE fourth day of searching for the missing Britten Norman Islander which disappeared around midday last Sunday, has yet again proved futile.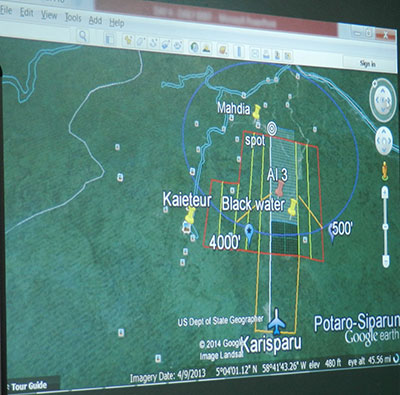 The Air Services Limited (ASL) aircraft which was transporting cargo from Mahdia to Karisparu, Region Eight (Potaro/Siparuni) reportedly went off grid around noon. The plane, bearing the registration number 8R-GHE, had two persons onboard at the time, the captain, Nicky Persaud, 27, and cargo loader, Mr. David Bisnauth, 51.
During a press conference at the Rescue Coordination Centre (RCC) at the Timehri Control Tower, Director of the Guyana Civil Aviation Authority (GCAA), Zulifar Mohamed noted that over the past four days, the centre has been on search- and- rescue operations over a plotted area that is "the most probable flight path the aircraft would have taken."
The director went on to explain that with all the agencies involved, they had determined an area of interest and proceeded to conduct their search. He noted too that they have also conducted searches at "ground level" by investigating some probable areas of sighting by locals. "Our team don't close off operations when the sunlight is no more, we continue to work way into the night and we will continue to do so until we have exhausted all options," Mohamed said.
"A great deal of time, effort and thought is being put into this operation," Robesonn Benn, Minister of Transport explained. He noted too that the RCC is working in accordance with all regulated aviation laws and the centre is the only body authorised to issue any statement. The terrain, Benn noted, is a mountainous and heavily forested area with dynamic weather patterns and as such the team has to be very careful and precise in their search.
"It's not a walk in the park; it's hard work," said Major Mike Charles, an experienced pilot with the Guyana Defence Force, as he explained how the locator on the aircraft works so as to enlighten media operatives on how the centre was able to have a "spot point "of the aircraft during the last communication between the aircraft and the control tower.
Roy Sookhoo, Coordinator of the RCC at the Timehri Airport, said the aircraft was carrying the required weight and the cargo consisted of construction materials such as zinc sheets. "The load was in keeping with (the aircraft's) performance," he related.
Annette Arjoon-Martins, Managing Director of Air Services Limited (ASL), lauded the work of the RCC and also thanked all agencies involved for their support and continued efforts. She related that Captain Persaud had been flying with Air Services for eight years and accumulated over 8, 000 flying hours. She said the pilot knew the area very well, and he was known to be "precise" and "detail oriented."
"We remain hopeful," said Arjoon-Martins, noting that it is too early to say if or when the search operation would be called off.
(By Rebecca Ganesh-ally)