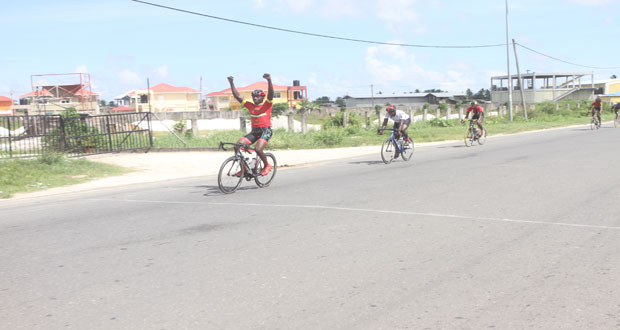 HAMZAH Eastman closed the Hassan Mohamed's 2014 cycling season with a victory in the 15th annual Diamond Mineral Waters sponsored 15th Annual 50-mile cycle road race yesterday.
The event which was organised by National cycling coach Mohamed and which commenced from outside the Wales Police Station, West Bank Demerara, saw Eastman returning a time of one hour, 59 minutes 42.80 seconds in recording the victory, He also won three of the eight prime prizes that were up for grabs.
Orville Hinds of Linden finished a close second and won three prime prizes also, while Berbician Romelo Crawford placed third, Jamal John fourth, Alonzo Ambrose fifth and Mark Harris sixth. Ambrose also claimed two of the eight prime prizes that were up for grabs during the event.
The defending champion of the event, Warren McKay, did not take part in yesterday's activity nor did the consistent Robin Persaud, Marlon `Fishy' Williams, Alonzo Greaves and Paul DeNobrega.
After the bikers were sent on their way from outside the Wales Police Station, the starters stuck together for most of the upward journey until Hinds attacked the pack but he was joined in the lead by Eastman, Crawford ,Ambrose and John and the quintet dominated the proceedings to the turn back point at Bushy Park, East Bank Essequibo, to the finish line at the Demerara Harbour Bridge.
Approaching the finish line, the five leaders were together, but with approximately 100 metres remaining for the finish, Eastman who was placed fifth at the time came from the inside and sailed past Hinds who was leading at the time to win by approximately one and one half bicycle lengths.
Hinds settled for second, Crawford third, John fourth, Ambrose fifth and Harris sixth.
It was quite some time after the first five cyclists crossed the finish line that the sixth placed finisher (Harris) out-sprinted Andre Green to finish sixth.
The junior category was won by Crawford while John placed second and Ambrose third.
Talim Shaw won the veterans category ahead of Shameer Baksh and Kennard respectively, while Ozia McAullay won the Mountain Bike category ahead of Julio Melville and Seon Budhan respectively.
The ladies event was won by Ronella Samuels, while Walter `Buck Man' Issacs made a successful defence of the veterans' over 60 years title.
The Veterans, ladies and mountain bikers all turned back from outside the Uitvlugt Community Centre and finished at the Demerara Harbour Bridge.